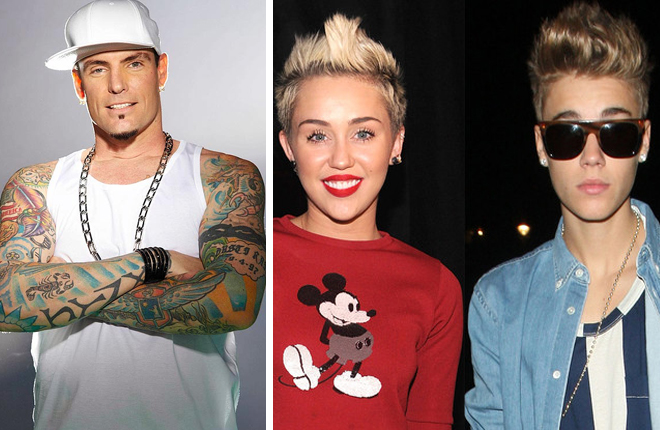 Vanilla Ice seems to be tickled by the self-destruction of celebrities.
When asked about Justin Bieber and his recent string of scandalous headlines, the ex-rap star said, "I'm sure he's not liking it from the inside, though watching is very entertaining. Who doesn't like to see a celebrity self-destruct or pee on people, or whatever he's doing?"
Try the people with working souls, Ice.
To be fair, Ice didn't strike the first blow here. Things got a little shady when Miley Cyrus used Vanilla Ice's failures as a warning in her recent Rolling Stone cover story. In the magazine, Cyrus told the interviewer that she warned about Justin Bieber making a mockery of himself.
"People don't take him seriously, but he really can play the drums, he really can play guitar, he really can sing. I just don't want to see him f-ck that up, to where people think he's Vanilla Ice. I tell him that. Like, 'You don't want to become a joke. When you go out, don't start shit. Don't come in shirtless.' But the thing is, I think boys are, like, seven years behind. So in his head, he's really, like, 12," Cyrus said.
Coming from someone who managed to turn her career into a joke after her desperate VMAs twerk stunt, the admonition to Bieber to keep his clothes on is both hilarious and hypocritical.
But regardless of Miley's shortcomings, Justin Bieber has been making the news over nonsense too often. If he wants to end up more like a Justin Timberlake than a JC Chasez or LFO, he better get it together quickly.
While Miley got her licks in on Mr. Ice Ice Baby, he did get a good jab back at Miley when he revealed that he coached a pregnant woman on how to twerk. Vanilla Ice said, "I told her no matter how bad you are, you'll never be as bad as Miley."
Well, he's got me there.
Be the first to receive breaking news alerts and more stories like this by subscribing to our mailing list.