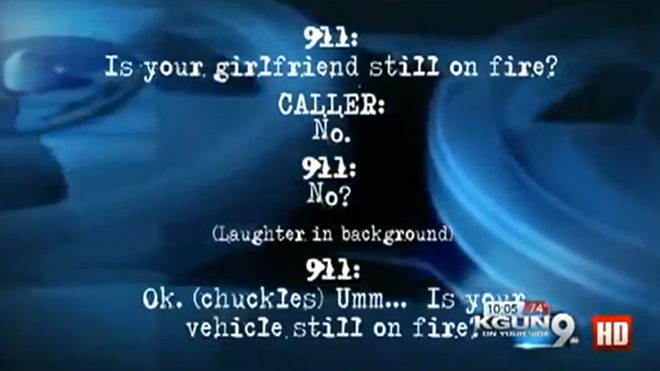 A man from Arizona is demanding an investigation after he was laughed at by a 911 dispatcher while calling to report that his girlfriend was on fire.
Lao Delgado says he never expected to get laughed at when he dialed 911 to request emergency vehicles because his girlfriend was on fire, but that's exactly what happened following a "freak accident" that caused his car to burst into flames.
Delgado and his girlfriend were stranded on a rural road outside of Tucson when he made the call.
Here's a brief transcript highlighting the crass moment:
911: Is your girlfriend still on fire?
Caller: No.

911: No?
(laughter in background)

911: Ok. (chuckles) Umm… Is your vehicle still on fire?
Caller:It's hilarious huh?

911: Sir, is your vehicle still on fire?
Caller: I just heard you smirk… Inaudible.

911: Ok, sir it wasn't regarding that ok.
Caller: Yeah, I just heard you laugh.
"You're calling for help, you shouldn't be laughed at," Delgado later said.
The dispatcher's insensitivity towards his situation prompted Delgado to call back a few minutes later, just to make sure they took him seriously the first time.
A spokesman for the Pima County Sheriff's Dept. says they are now investigating the incident and are trying to determine whether the dispatcher was laughing at Delgado or something else in the background. "We're investigating what the laughter was about," Capt. Jim Berry told KGUN 9 News.
"We did not perform as I expect or the citizens of this county expect us to," Capt. Berry said, adding that an investigation was already underway before the complaint was filed. "We're going to correct that. Certainly I can understand why he was upset. I would be, too."
The 911 dispatcher will remain on the job as the department investigates, and Capt. Berry said that response time to Delgado's girlfriend was not affected, despite the call taker's poor performance. But Lalo has a different opinion.
His girlfriend was badly burned and will require an indefinite amount of time to recover, and he believes her injuries could have been less severe if the dispatcher had taken the call more seriously.
"If she wasn't there playing around giggling and would have been right on it," Delgado said. "One minute, two minutes, every minute counts man."
He added, "Hopefully the next person that calls 911 doesn't get laughed at."
Be the first to receive breaking news alerts and more stories like this by subscribing to our mailing list.