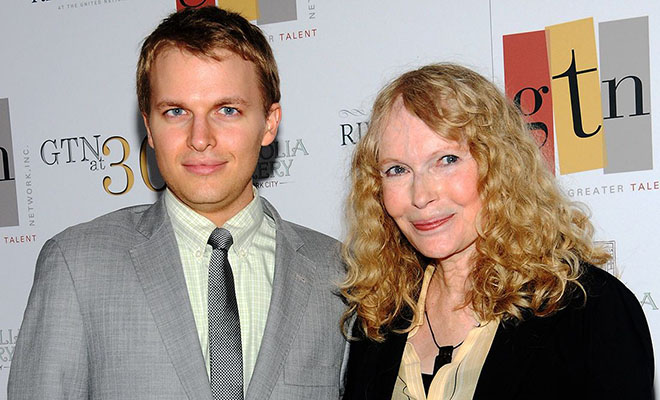 Actress Mia Farrow revealed in a new interview with Vanity Fair magazine that Ronan Farrow, her  25-year-old son with actor/director Woody Allen, might instead be Frank Sinatra's son.
68-year-old Farrow, who was married to Sinatra for 18 months from July 1966, told Vanity Fair that she and Sinatra "never really split up," and when asked point-blank if her son Ronan might actually be Frank Sinatra's son, instead of Woody Allen's, she said, "Possibly."
This sounds like an episode of Maury, but with rich people.
Ronan was born in 1987, which means that Frank Sinatra (who died at 82 in 1998) would have been in his early 70's when Mia was pregnant, which is pretty old, but not necessarily too old to make babies. Robert De Niro is still out here making babies and he just turned 70 this year, so, yeah, it's definitely possible.
Taking the potentially embarrassing (but also, kinda awesome?) news in stride, Ronan tweeted this morning:
Listen, we're all *possibly* Frank Sinatra's son.

— Ronan Farrow (@RonanFarrow) October 2, 2013
And just to make things a little more interesting, here's a side-by-side comparison shot of Frank, Ronan and Woody: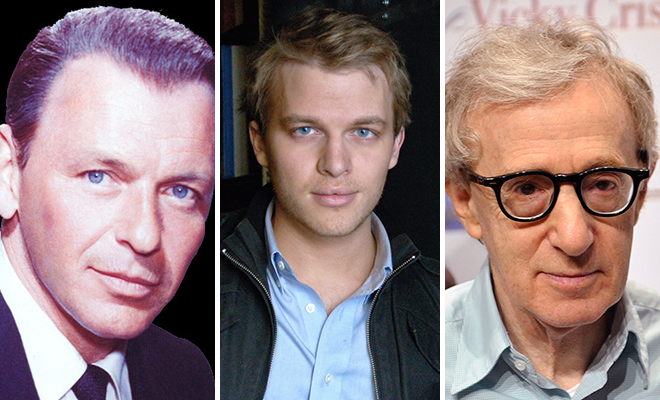 I mean … he does have blue eyes :-/
In related news, Ronan Farrow is rumored to be in talks to get his own show on MSNBC, so the fact that his name is being thrown around (even if his paternity is in question) isn't the absolute worst thing.
Be the first to receive breaking news alerts and more stories like this by subscribing to our mailing list.