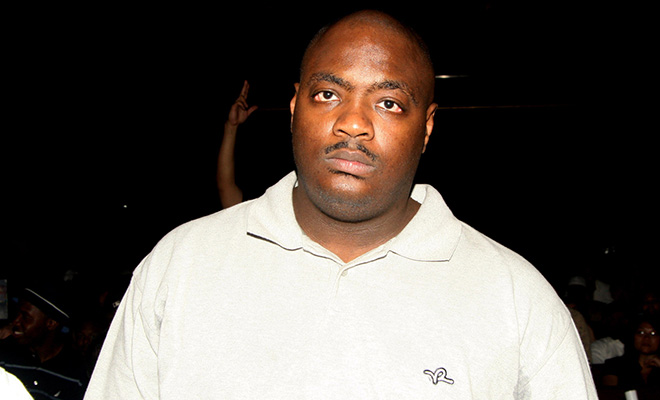 DJ Mister Cee officially resigned from his 20-year stint at popular New York radio station Hot 97 yesterday after a video of him allegedly soliciting a transsexual man for sex surfaced online, and for the first time since his abrupt resignation, the radio opened up about the incident in a VERY candid interview with his co-workers this morning.
Those familiar with Mister Cee and his secret "exploits" know that he has been arrested for trying to solicit prostitutes on numerous occasions over the years. And in each case, though reports/evidence have pointed to the fact that the prostitutes were men, Cee has maintained that the incidents have always been with women.
That all changed on Wednesday (Sep 11) when an Internet Blogger and drag queen known as "Bimbo Winehouse" put Mister Cee on FULL BLAST with a YouTube video showing the DJ attempting to solicit Bimbo for oral sex.
"I'm trying to get some good head and you fuckin' delirious…" a frustrated male voice is heard saying to Bimbo as the two try and find a discreet place to 'do their thing.' Bimbo says there's a low-key convenience store they can go to — "All you have to do is walk in after me," he suggests — but Mister Cee wants no part in that.
While Mister Cee's face can't be seen in the video footage, the man's voice in it sounds very similar to Cee's, and he basically confirmed it by announcing his resignation from Hot 97 shortly after the clip went viral online.
I announced my resignation today from the job I loved to do at Hot 97 , please understand i never intended to let NY/NJ/CT all my fans down

— Mister Cee (@Real_MisterCee) September 11, 2013
On Thursday morning (Sep 12), Mister Cee spoke with on-air personality Funkmaster Flex and Hot 97 Program Director Ebro Darden (for the second time in less than 6 months) and finally confessed to soliciting transsexual/drag queen men and prostitutes.
He also adamantly denied to being "gay," but he did admit to receiving oral sex — or, as he put it, "getting fellatio" — from transvestites, though he later confessed that he may be in denial.
At one point during the 30-minute discussion, Mister Cee broke down into tears as he tried to explain his "addiction" to "getting fellatio" with cross-dressers and transsexuals and why he felt the need to try and hide it from everyone.
The YBF has the highlights from the interview here:
On having sex with transsexuals (Mister Cee used the word Transsexual and he may also be including transvestites)

Have I lied about getting head in a car from a transsexual? Yes. I have been in denial about this for a very long time. Do I consider myself gay? No. I have gotten fellatio from transvestites. And that's as far as it went. I never had actual sexual intercourse with another man. Or vice versa.

I know that I love women. But occasionally I get the urge to have fellatio with a transsexual, a man that looks like a woman.

On the video that was just released By Bimbo Winehouse as proof of his activities with transsexuals

The person I was in the car with, I know exactly who that person is. I don't know why he would want to harm me like this. That video is an old video, probably like the end of last year. (Bimbo Winehouse claims the video was taken 2 weeks ago.)

On his fear of telling the truth

Am I still going to be looked at the same way? Am I still going to be…. [breaks down on air] My whole fear of this whole thing of what I've been going through–is my family. I don't talk about my family much.

I wonder what the streets are going to say. Will people still book me?

On reconsidering resigning

[Breaks down again] Right now I just really feel like I let y'all down. I don't know if I can stand back in this studio and be the same person. I just don't know.

On getting help

I don't look at what I do as a problem, it's a problem that affects the people around me. I was already in motion of repairing that and trying to move better for what I did in my private life. With the situation that happened in May with the undercover male officer, everything I told you was the God's honest truth. I went to court Monday and the charges were dropped. I haven't been involved in any type of activity since probably the beginning of the year.

It's almost like the Anthony Wiener situation. You move forward and say what it is, then there's an old text that comes. Like, am I going to have to keep answering to this?

On his caribbean roots being the reason he denied his sex-with-transsexuals life

It has a lot to do with it. My father's Trinidadian…
Ebro said he was unhappy to learn that Mister Cee was resigning from Hot 97 and urged him to remain at his position with the station, an offer Cee accepted on today's morning show, and he agreed to come back and do his regular afternoon mix today.
It's unclear whether he'll permanently reconsider his resignation, but regardless, as Ebro put it, "Now you're free Cee…"
Be the first to receive breaking news alerts and more stories like this by subscribing to our mailing list.