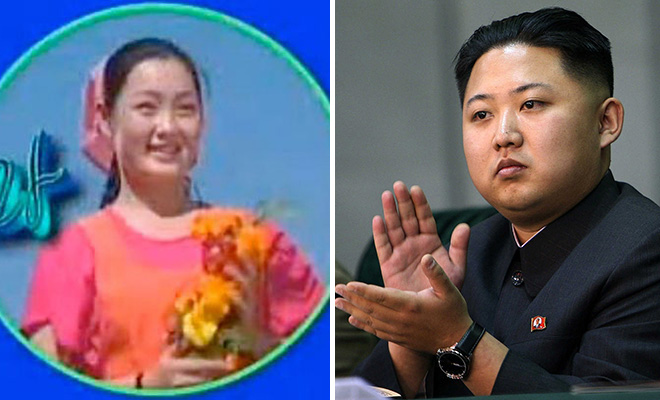 According to reports from foreign media, North Korea's Supreme Leader Kim Jong Un is believed to have ordered the execution of his ex-girlfriend by firing squad over allegations that she made pornographic videos.
The South Korean newspaper Chosun Ilbo reports that Hyon Song Wol — a popular North Korean singer, and former lover of baby-faced dictator Kim Jong Un — was reportedly arrested, along with 11 other entertainers, on August 17th after they recorded videos of themselves having sex.
The group is also accused of selling the sex tapes, some of which made it to China, and because of North Korea's strict anti-pornography laws, Song Wol and the 11 others were shot to death on August 20th by a firing squad reportedly ordered by Kim Jong Un as their families watched.
Kim met Hyon about a decade ago, before either of them was married. But he was later ordered to break off the relationship by his father Kim Jong-il and she married a soldier. Since then there have been rumors that the two were having an affair.

Kim's wife Ri Sol-ju was also a member of the Unhasu Orchestra before she married him. Whether she had any hand in the executions is unclear. The Unhasu Orchestra and Wangjaesan Light Music Band have apparently been disbanded due to the latest scandal.

"They were executed with machine guns while the key members of the Unhasu Orchestra, Wangjaesan Light Band and Moranbong Band as well as the families of the victims looked on," a source said.

The source added that all of the families of the executed appear to have been sent to prison camps under North Korea's barbaric principle of guilt by association.

Hyon was a singer with the Pochonbo Electronic Ensemble, which is famous for revolutionary and propaganda songs and one of North Korea's most popular bands.

A source said, "Kim Jong-un has been viciously eliminating anyone who he deems a challenge to his authority." The executions "show that he is fixated on consolidating his leadership."
YIKES! And what does Lil Kim's BFF Dennis Rodman have to say about all this?
Be the first to receive breaking news alerts and more stories like this by subscribing to our mailing list.