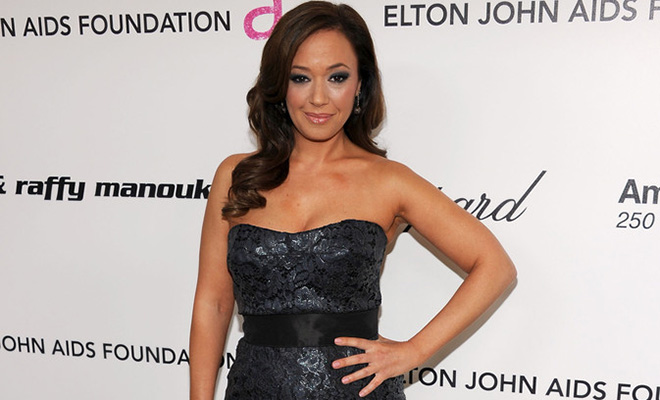 When a lot of people leave the mothership that is the Church of Scientology, they go underground with the hopes of escaping the cult members left behind. Or, excuse me, alleged cult members. Can't forget saying that. In any event, actress Leah Remini is not one of those people — taking it directly to the faith to which she gave millions of dollars to.
In fact, Leah is said to be writing a book about her ordeal with the controversial religion and is stating publicly that she expects more to join her in removing themselves from the practice.
"She believes the people who have waited for fear of retaliation will find comfort as she has," said a source close to the star. "There is love and support just waiting for them to come forward."

After we reported Remini was breaking from Scientology, the feisty actress told People: "I believe that people should be able to question things . . . I'm not about to shut up."

Remini's departure reportedly angered longtime church members she had thought were friends.

A source close to Remini said: "Leah's 'friends' . . . have not given her the decency as to even question alleged practices of abusing staff and unfairly excommunicating executives and long-time parishioners who have achieved high levels [within the church] and donated millions."

Sources have said Remini was subjected to "interrogations" for questioning such practices as forcing members to "disconnect" from "suppressive persons," and for asking about the whereabouts and safety of [Scientology leader David] Miscavige's wife, Shelly.

Remini is being supported by former member Paul Haggis, who wrote in an open letter, "When I was 'declared' a 'Suppressive Person' and shunned, she came to my defense."

Said a friend of Leah: "The fact that it is 'SPs' like Paul who have come to her aid says a lot about who the good guys are. That parishioners continue to accept the information that is fed to them rather than looking for themselves is heartbreaking."

Remini is writing a book. "Leah believes public pressure will open further investigation to [what has] stayed covered for so long," our source said.
This is what happens when you join a religion called Scientology created by a science fiction writer. But you know, if this is your thing, "amen" or something.
P.S. RUN, LEAH, RUN. GIRL, THEY COMING! I SAY THEY ARE COMING.
Be the first to receive breaking news alerts and more stories like this by subscribing to our mailing list.