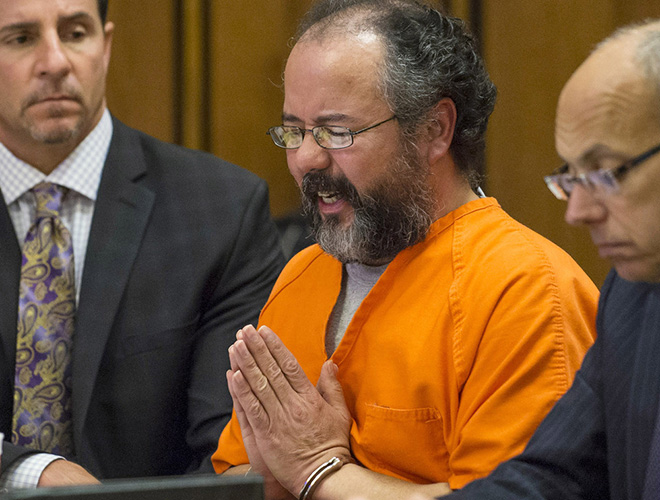 While the three women he kidnapped and held captive for at least 10 years and the photos showing his "house of horrors" would beg to differ, Ariel Castro wants the world to know that he is "not a monster."
Castro — who was sentenced to life in prison, plus 1,000 years with absolutely zero chance of parole — gave a pretty bizarre statement in court on Thursday (Aug 1).
In his statement, Castro claimed that the sex he forced upon the women was "consensual," and he also denied being a "murderer," even though he pleaded guilty to hundreds of charges, including murder under a fetal homicide law for beating starving one of his victims to force her to miscarry.
Castro's statement came after one of his victims, Michelle Knight, read aloud her own, in which she confronted him for the "hell" she endured in his house for 11 years. Knight was the first victim Castro kidnapped and also the victim who beared the brunt of the abuse.
As Knight read her statement, Castro showed no reaction, and instead, chose to give his own rambling speech, in which he depicted himself as a person who had "everything going" for himself, but battled with an addiction to porn.
The 53-year-old self-proclaimed normal person also denied that he ever raped neither Knight, nor his two other victims, Amanda Berry and Gina DeJesus, during the years they were held captive in his home. He also insisted that there was "harmony" in the house among himself and his captives.
"Most of the sex that went on in the house, and probably all of it, was consensual," Castro said.

"These people are trying to paint me as a monster. I'm not a monster. I'm sick. My sexual problem, it's so bad on my mind," Castro said.

"God as my witness, I never beat these women like they're trying to say that I did. I never tortured them," he said.

During the hearing, detectives told how he captured the three women and subjected them to a decade of torture, which one woman wrote in a diary was like being held as a "prisoner of war."

Prosecutors used a detailed scale model of his house and slides to take the court through his house of horrors of hidden rooms, chains, motorcycle helmets for his victims and a gun he would use to threaten them.

Knight, 32, the first of the three women to be kidnapped, was in a store asking for directions when she was approached by Castro who offered to give her a ride, said Detective Andy Harasimchuk.

Knight told detectives she accepted the ride because she knew Castro's daughter. Castro then drove her to his house and invited her to come inside to pick out a puppy for her son, at which point Harasimchuk said Knight was restrained with an extension cord, dragged to the basement where she was restrained with chains, had a motorcycle helmet jammed on her head and raped for the first of many times.

Eight months later, on April 21, 2003, Castro targeted Amanda Berry by offering her a ride home from her job at Burger King. Berry knew Castro's son and daughter, and Castro took her to his house so she could talk to his daughter, Harasimchuk said.

She was quickly bound with duct tape, put in a motorcycle helmet and chained to a pole in the basement.

Castro's third victim, Gina DeJesus, now 23, was friends with his daughter. She got into Castro's car and he asked her to come in the house to help him carry a speaker to his car, Harasimchuk said. She became uncomfortable and tried to flee in the dark house, she inadvertently ran into a closet and captured, the detective said.

The home was wired with alarm clocks "in a makeshift manner" to create an alarm system to the house, he said.

The women were kept in two rooms behind a door that could be secured from the outside with a lock, with a circular hole cut towards the bottom of the door that was a source of ventilation, the agent said. The windows were boarded up with very heavy closet doors, he said.

Berry shared one room with her now 6-year-old daughter, who Castro fathered while in captivity. DeJesus and Knight shared an attached, smaller room where a chain was also kept to restrain the women.

According to a sentencing memorandum released Wednesday, the women were restrained by chains attached to their ankles with access only to plastic toilets in the bedrooms that were rarely emptied. Castro fed the women one meal a day and used the "cold of the basement" and the "heat of the attic" as punishment techniques, according to the memo.

The women kept diaries during their incarceration.

"The entries speak of forced sexual conduct, of being locked in a dark room, of anticipating the next session of abuse, of the dreams of someday escaping and being reunited with family, of being chained to a wall, of being held like a prisoner of war," the memorandum says.
Last Friday, Castro pleaded guilty to 937 counts — including kidnapping, rape, assault and aggravated murder — that will send him to prison for the rest of his life with no possibility of parole for abducting the women and keeping them as sex slaves for more than a decade in his Cleveland home.
[ABC]
Be the first to receive breaking news alerts and more stories like this by subscribing to our mailing list.