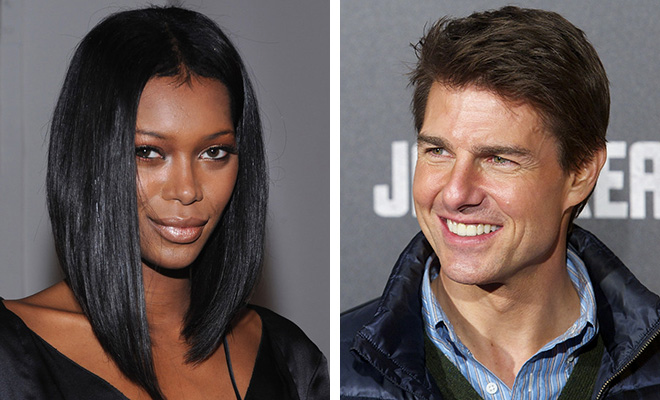 According to the tabloids, Tom Cruise may have found himself a new beard. Yes, the word is Tom has found himself a Black special lady friend in model Jessica White.
White, who has been linked to Sean Penn in the past, is apparently a new Scientologist and Mr. Cruise has been offering her a personal tour of the mothership. Could an arranged marriage be in the works?
Probably, but in the meantime, here's the word (via the National Enquirer) about his search for a new girlfriend:
The 51-year-old superstar, who's worth an estimated $270 million, has even enlisted his teenage son Connor to help him find Miss Right. But he reportedly has his heart set on landing a stunner in her 20s, and that could be a mission impossible.

"Tom is lonely and very much wants a woman in his life right now," disclosed an insider.

"He's not used to being alone and believes that appearing to be a failure in the love department lessens his star power. He's been combing through his contact list to call old girlfriends, and he's hitting on young model types in hotspots – but so far, no luck."

It's a huge comedown for the once red-hot ac­tion hero, who's already a three-time loser in marriage.

"Tom's stock as a great catch has plummeted," said the insider. "Women are more sympathetic to Katie since their bust-up. They see Tom as controlling and, with his Scientol­ogy connection, just downright creepy."

To help him score chicks, Tom has turned to 18-year-old Connor, a well-regarded club deejay, a source says. He's been spotted cruising hip clubs like Hyde in Hollywood, where he caught his adopted son's deejay sets and "scoped out the girls," noted the insider.
Here's how this will go: Regardless of whether or not he's dating that allegedly crazy Black model, he will "date" some woman in due time. Then you'll begin to read stories about how smitten they are with each other, how head over heels in love he is, and how he just can't wait to put a ring on it.
The relationship will be "hot and steamy" and other gossip news phrasing that means they're sexing each other all the time. Hell, it'll read like supremely bad heterosexual fan fiction.
Eventually, a contract will be written, Tom Cruise will get married and for the next five to seven years he'll be in marital bliss.
The wife, on the other hand, might as well be kept in a cage as she's being brainwashed into believing a science fiction writer discovered the meaning of life by using what was probably some rejected sci-fi novel spun into a religion.
Towards the end of their marriage — and oh yes, it will end — the wife will forge an escape plan and get the hell away from Tom Cruise and his crew's crazy asses.
Tom will look sad in a few pictures and then rinse and repeat this story. Ask about me. Or better yet, ask about Nicole Kidman and Katie Holmes.
Be the first to receive breaking news alerts and more stories like this by subscribing to our mailing list.