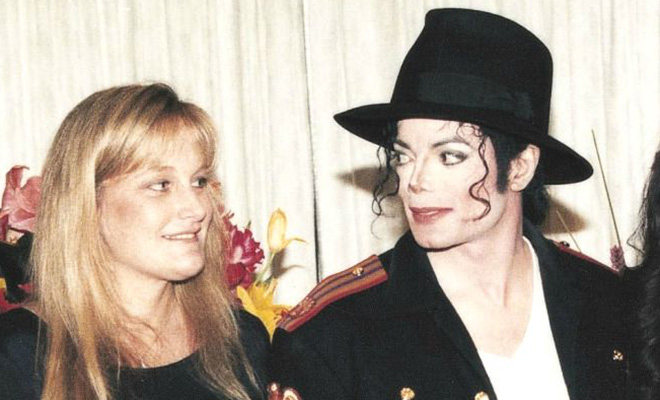 I'm a bit exhausted with details about Michael Jackson's death, but mama Katherine and a good number of other members of the Jackson clan want AEG to come up off those ends for allegedly spearheading the early death of the King of Pop.
His drug addictions have become well-known since his untimely passing, but whether or not he was so good as a functioning addict that it would be hard for anyone — particularly an employer — to notice the signs and respond accordingly will determine how this suit goes.
AEG is calling in Michael's ex-wife Debbie Rowe to potentially help them by acknowledging that Michael was skilled at keeping his issues with prescription drugs a well kept secret.
TMZ reports:
We're told Rowe will point the finger at her former boss, MJ's go-to doc, Arnie Klein.  Rowe will testify she learned after the fact that Klein had a standing order … when Michael came to the office he should be injected with Demerol and Vistaril (which makes the Demerol stronger).

Rowe will say Michael kept the extent of his drug abuse a secret from her — something that will clearly help AEG, because the company is arguing it had no reason to know Michael was a drug abuser. Rowe will say she saw Michael on TMZ coming out of Klein's office days before he died — looking totally out of it.

We're told she will say she called Klein after Michael died and said, "What the f**k did you give him? He's dead and it's your fault."  She then hung up on him. Rowe's testimony will further help AEG because she'll say she had no idea Michael was secretly going to surgical offices specifically for the purpose of getting high and going to sleep.

She'll also say she's the only person in Michael's world who could control him — that she's the only one (including Michael's family) who would say "NO." The testimony could be critical.  If the jury believes Michael could hide his hardcore drug use, AEG would have no reason to sound an alarm or take preventative action.
Be the first to receive breaking news alerts and more stories like this by subscribing to our mailing list.