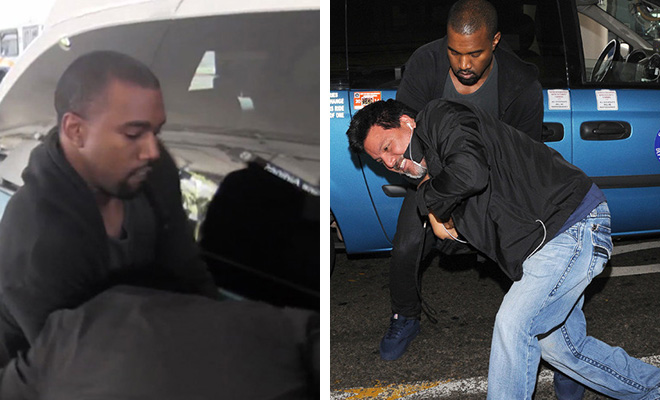 In news that should surprise no one, Kanye West went "postal" on a photographer at LAX early Friday, according to an exclusive report from TMZ.
The gossip site reports that Yeezy was on his way out of the Los Angeles airport Friday afternoon when he was surrounded by paparazzi who were snapping pictures. But one photographer decided to ask Kanye some questions, and we all know what happens when you ask Kanye questions. Bad things, is what.
Kanye told the man not to ask him questions, but he kept going — and Kanye attacked, attempting to wrestle the camera from the guy's hands, and the man fell down. Kanye then immediately jumped into a waiting car and took off. Paramedics and police rushed to the scene.
This is "the scene":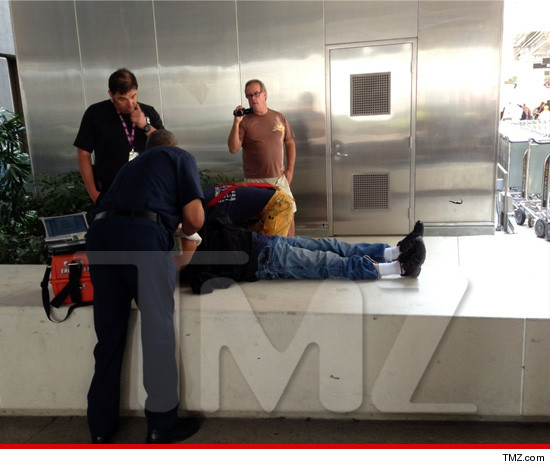 After the "attack," the photog was taken to the hospital.
Here's a video of the "scuffle" and another view from the photog's POV:
Police are said to be investigating the fight, as Kanye has been named a "felony suspect" in the incident.
According to TMZ, police believe Kanye committed an "attempted robbery" when he tried to take the photog's camera as he assaulted him. The case has been transferred to something that sounds really serious called the "Robbery Homicide Unit" and cops are said to be putting a file together.
Last week, while he was out of the country, Kanye made headlines when yelled at a TMZ cameraman who called themselves "field reporter", telling them "DON'T TALK TO ME …EVER!" But why does Kanye West hate the paparazzi so much?
Apparently, this is why:
Sources close to Kanye tell TMZ … after he started getting serious with Kim Kardashian, he felt a couple of paps would cross the line and ask him inappropriate questions about their relationship in public. We're told he started to feel like certain paps were "heckling" him.

Things escalated in October 2012 during a trip to Miami … when a local photog — not a TMZ guy — asked Kanye and Kim if they would be inviting Kris Humphries and Reggie Bush to their wedding.

Kanye was pissed … and, rightfully so, felt the photog was just trying to antagonize him.

Things got worse a few months later, after Kim announced she was pregnant — when another pap started hammering K&K about whether they would invite Ray J to the baby shower.

That, we're told, was the breaking point — and from that moment on, Kanye decided to impose his "DON'T EVER TALK" policy on anyone with a camera.
So there you have it. But is Kanye seriously going to beat up EVERY SINGLE photographer that talks to him? Eventually, he's gonna come across the wrong one and get his ass beat. So he'd better figure out a way to just ignore them and keep it moving before something regrettable happens.
Be the first to receive breaking news alerts and more stories like this by subscribing to our mailing list.