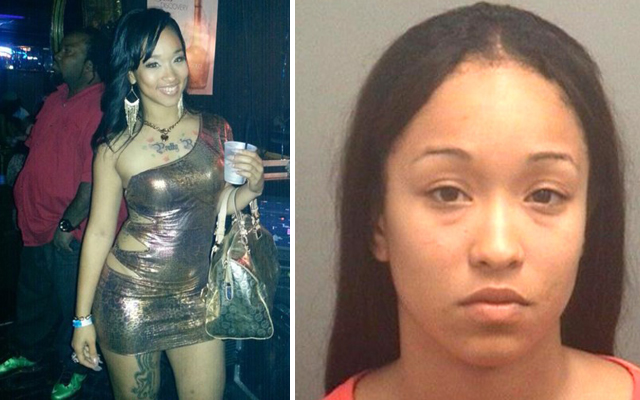 Being a video ho is a perfectly acceptable career path, but trickin' for dollars doesn't excuse you from being a decent parent. Brittany Harris, also known as Pretty Red, failed to pick up on this memo when the Internet went in on Draya Michele for a similar incidence of child neglect.
The Daily Mail reports that Brittany Harris, (who the outlet charitably refers to as a "glamour model") left her children in the parking lot around 7 pm and went inside to the West Palm Beach stop of Lil' Wayne and T.I.'s tour, "America's Most Wanted."
The abandoned children came to the attention of arena employees and they got police involved to help figure out who the children belonged to. At first, Harris denied responsibility claiming that her cousin brought the children to the venue, but she later fessed up to the idiotic decision to bring her children to the concert, according to a report from The Smoking Gun.
After spotting the children standing near a Nissan Altima around 9:45 PM, an arena employee spoke to them and learned that Harris "went into the concert and left them to stay in the car." The worker then escorted the children to a venue gate, where he turned them over to sheriff's deputies.

At around 10:30 PM, after the concert ended, investigators located Harris in the parking lot. After initially claiming that her cousin had brought her children to the fairgrounds, Harris "confessed that she came here and left the kids to stay in the car so she could watch the concert."

Since the children "were left unsupervised for several hours" in a "busy parking lot with an estimated 9000 patrons, numerous vehicles and intoxicated persons," Harris was arrested and taken to jail. Simultaneously, child welfare workers were "notified to take possession of the kids" deputies reported.
Has this dumb bird never heard of hiring a babysitter? This same cousin Pretty Red is trying to blame this sad state of affairs on couldn't look after her kids for a three-hour concert? I won't even bother asking where the babies' daddies are because I know that's a hopeless question with no happy ending.
Video hos need to stop going to the Draya school of parenting because this ain't no way to live.
Be the first to receive breaking news alerts and more stories like this by subscribing to our mailing list.