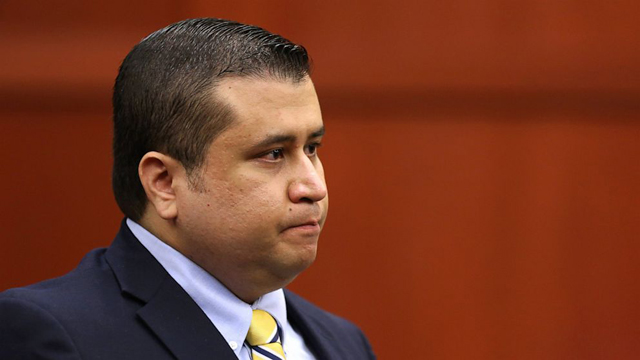 In what is undoubtedly a sad day for people of color across America, George Zimmerman has been found not guilty for the death of Trayvon Martin.
The case of Trayvon Martin and George Zimmerman has rocked and gripped the nation for the past year. And now, it has abruptly come to an end on late Saturday evening.
A jury of six women found George Zimmerman not guilty of second-degree murder or manslaughter in the case of Trayvon Martin's death, reports CBS News.
The jury deliberated until late Saturday night after Zimmerman's defense wrapped up closing statements and the prosecution concluded rebuttal arguments Friday. Zimmerman, 29, was charged with second-degree murder in the shooting death of Florida teen Trayvon Martin during an altercation last year in a Sanford, Fla. gated community. Zimmerman pleaded not guilty, claiming he shot the teen in self-defense.
Already, the verdict has provoked passionate responses from many popular celebrities and personalities.
How do we explain this to children? RT @lolaogunnaike: Apparently walking while black is a crime punishable by death. #TrayvonMartin

— Gabrielle Union (@itsgabrielleu) July 14, 2013
My heart is heavy…for all who knew and loved #TrayvonMartin. His life mattered. This is shameful.

— Mandy Moore (@TheMandyMoore) July 14, 2013
This is the saddest news ever!!! #whatsjustice #pray4theMartinFamily

— Rihanna (@rihanna) July 14, 2013
And our taxes paid for that trial. We just paid to see a murderer walk free after killing an innocent unarmed little boy. #GodBlessAmerica

— Nicki Minaj (@NICKIMINAJ) July 14, 2013
What are your thoughts? @BarackObama We're allowed to disregard 911 operators, pursue and kill ppl now? But send lauryn hill to jail 4 TAXES

— Nicki Minaj (@NICKIMINAJ) July 14, 2013
I know many people are very upset about the verdict, but we must remain peaceful. No matter what, remain peaceful.

— Russell Simmons (@UncleRUSH) July 14, 2013
My condolences continue to go the Martin family.

— Mastermind (@rickyrozay) July 14, 2013
Lock a man away for dogfighting (which is wrong) for two years . But u can kill a. Child tho.

— Wale Folarin (@Wale) July 14, 2013
The possibility of protests, appeals and all of that is likely, but there's very little that can be done in the future to erase the emptiness that this not guilty verdict has left behind. What's a 17-year-old black boy's life worth in America? Apparently not very much, according to a jury of our so-called peers.
Be the first to receive breaking news alerts and more stories like this by subscribing to our mailing list.