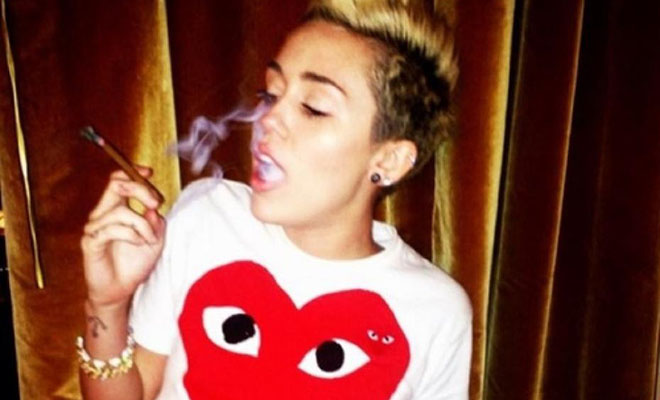 Miley Cyrus is just here for the marijuana. And twerking, too. But she'st mostly here for the weed. The ganja. The green stuff. That loud pack. Whatever you kids call it these days.
In the July 2013 issue of Rolling Stone, the "We Can't Stop" singer all but admits that she smokes weed.
"I did a song with Snoop Dogg called 'Ashtrays and Heartbreaks', so people can put it together for themselves," she said, which pretty much means, "DUH, I SMOKE WEED!"
And the former "Hannah Montana" star also let it be known that she adamantly supports weed, saying: "I think alcohol is way more dangerous than marijuana – people can be mad at me for saying that, but I don't care. I've seen a lot of people spiral down with alcohol, but I've never seen that happen with weed."
She didn't stop there either. The twerk team's newest member continued, "As long as it isn't illegal, there are far more dangerous things. And it's legal in the state of California. So I'm happy to live in California, a place where you can be whoever you want to be."
What do you think about this new outspoken, weed-smoking, "Bandz A Make Her Dance" twerking Miley 2.0?
Be the first to receive breaking news alerts and more stories like this by subscribing to our mailing list.