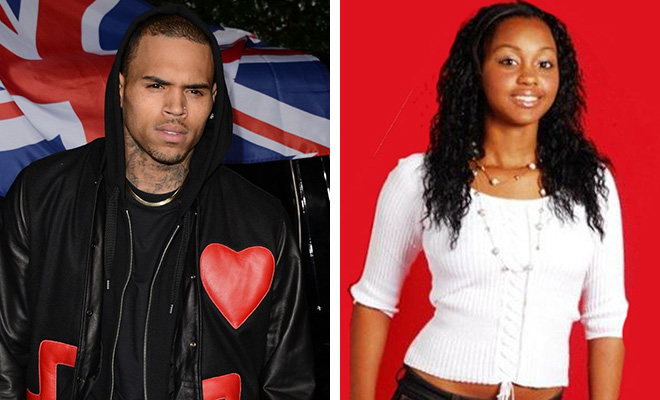 Yesterday, TMZ reported that Chris Brown had been accused of "badly injuring" a 24-year-old girl at a nightclub in California over the weekend. The girl had claimed that she was so "badly" injured that she might need surgery.
Well, guess what? All of it was a lie, this according to owners of the Heat Ultra Lounge in Anaheim, California, who told TMZ:
"Based on the information which we have gathered from our security company, mall security, and other party goers which were at HEAT on Saturday night; It is apparent that the alleged incident regarding Chris Brown is false."
The accuser Deanna Gines' side of the story goes as follows. She was in the VIP section with Chris at the club where he had just performed, and when the bar was about to close, she says Chris, for whatever reason, shoved her to the ground deliberately, causing her to fall hard on her knees.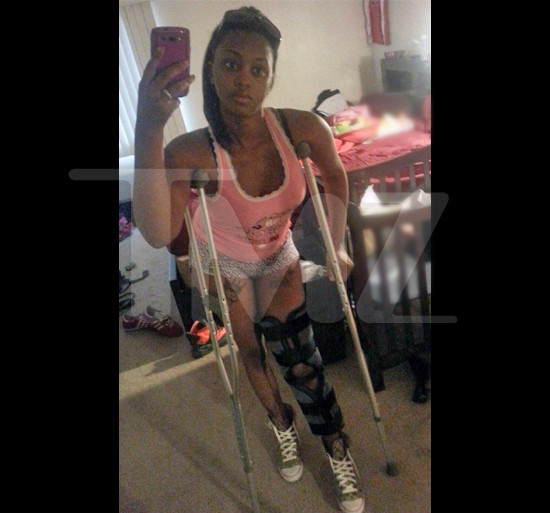 Deanna even sent TMZ this picture of her on crutches — apparently after she was treated at the hospital for "torn ligaments" — wearing a leg brace and one of the saddest faces ever. She's really playing up the "victim" role here, but one question. Why is she "standing" on her injured knee? Why is she dressed like that? Why is her room messy?
Why is she lying?!?
Chris Brown defended himself and his innocence on Twitter Monday, insisting that he "didn't do anything" and that he had a "positive" night at the club, and according to TMZ, the owner of the club is backing him up.
The owner says 24-year-old Deanna Gines had repeatedly tried to jump on stage during Chris' performance at the club — and later tried to rush Chris in his roped-off VIP area.

The owner says Gines got tossed as a result of her behavior — and while being taken out, the owner says Gines took off her heels and threw them at security.

The owner says police were called to arrest Gines, but eventually let her go home with her friends.

As for any potential injuries Gines may have suffered while being kicked out, the owner simply said, "Heat staff and security did what they had to do … [Chris] was a complete gentleman."
Also backing up Chris' side of the story were eyewitnesses who told Gossip Cop that Deanna "spent all night trying to get on stage" during the Grammy winner's performance, in addition to trying to enter his VIP area later.
His security managed to keep her safely away, but as Brown left the venue, she claimed that he had "pushed her down the stairs." But what really happened is Gines actually "tripped and fell" long after Brown had left the building, witnesses said.
Chris Brown's innocence was further proven this morning when TMZ posted a video showing Deanna Gines walking on the leg she claimed the singer seriously injured just "minutes" after the alleged incident.
The video was shot early Sunday morning in the Heat Ultra Lounge parking structure in Anaheim, where Deanna Gines was being escorted out by security. She's clearly upset, telling the bodyguards, "F*** all y'all!"
In the words of Chris Brown's publicist, "None of this makes sense."
Meanwhile, Team Breezy has been going in on that crazy girl on Twitter ever since the story broke: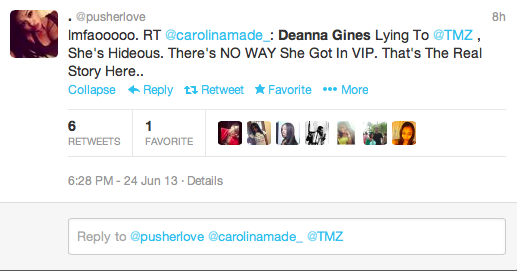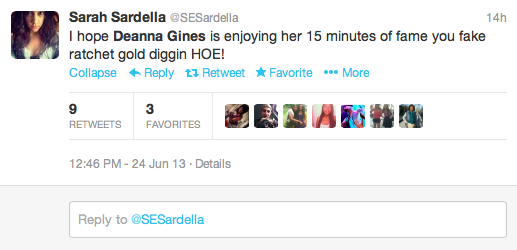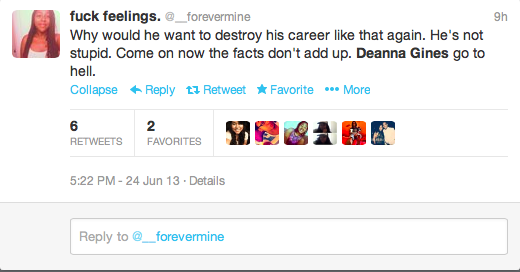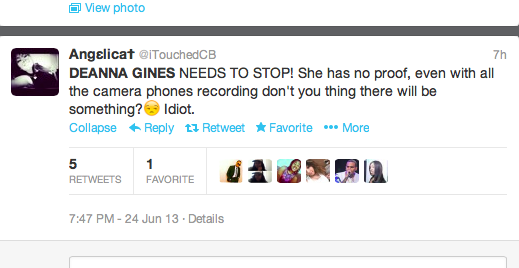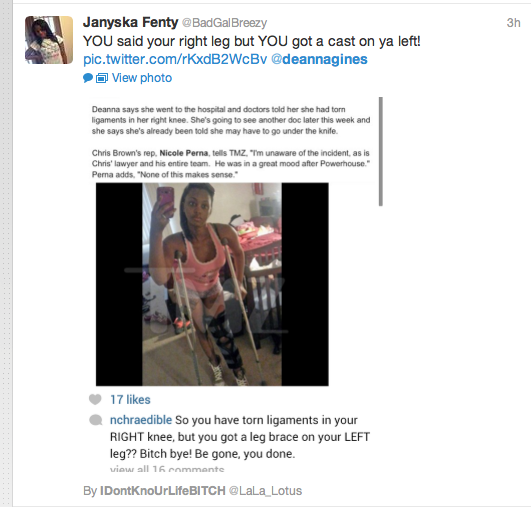 Be the first to receive breaking news alerts and more stories like this by subscribing to our mailing list.