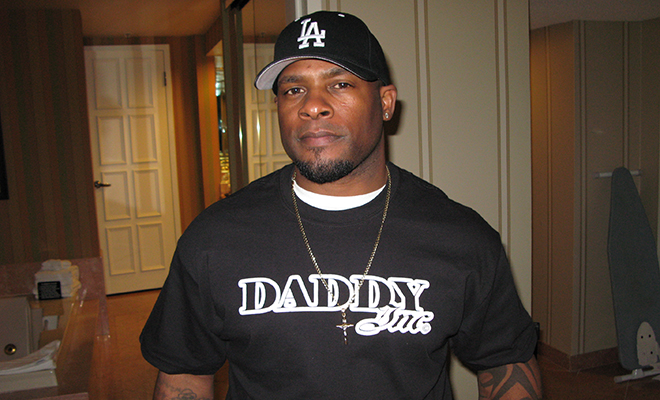 Earlier this month, porn star Mr. Marcus was sentenced to 30 days in jail for knowingly infecting a sex partner with an STD. The scandal led to a big syphilis scare in the adult entertainment industry, so now that he's been convicted of the crime, it's not surprising to see Mr. Marcus start to be more forthright. You know, given if he wants to continue hitting the daddy stroke for money in the future, he best fess up about his transgression.
The dirty d**k porn star spoke with Baller Alert and maintains that it was never his intention to give folks the burn.
Mr. Marcus tells Baller Alert:
"I did not go out there and try to f**king intentionally get anybody infected. From my heart man, up to God, I thought it was something that was just a skin rash. I went out and bought some damn Carmex lotion (it's an everyday hydrating lotion), I put it on [my penis] and I thought it made it look better. That coupled with things going on with my hands, little brown spots or whatever, I looked things up on the internet and I'm telling you, only thing that came up was a vitamin deficiency and that I need more vitamins. I went out and bought vitamins and Carmex."

"Syphilis is called the great imitator it supposedly looks like other diseases, problems, symptoms and it's never related to just a std. 20 years in this business and only STD's I was aware of is gonorrhea and chlamydia."

"You gotta understand that when I worked with that girl I had a FRESH test. NOTHING came back saying, hey you need to go to the doctor, get a checkup, a shot, not a single damn thing. I used the lotion and it made it look better."

"In hindsight, I wish I did it way differently but I DID NOT KNOW and I wanna make that very clear. By the time my doctor's appointment came around, back on July 11th or so, he was like 'your symptoms look like it could be syphilis.' First time I ever heard that word. The doctor said it's easy, it's a simple fix (shot in the rear), a simple bacteria, look it up, syphilis is non contagious 24 hours after that shot. The medicines worked because not a single person I worked with before, during, or after that shoot was infected and that's the truth, that's the bottom f***ing line."

"The most important thing if you're a young man/sister having sex, go get tested, look for things, go to your doctor, do it regularly especially, if you're promiscuous. If you really ain't sure throw on a condom and you won't have to go through what I'm going through. I hope all this s**t is for a reason and people learn a lesson from it. A lot of people don't know, get embarrassed and feel ashamed because they have a STD, that's what makes people hide it because people make 'em feel like s**t if you test positive and especially if you're promiscuous."
Be the first to receive breaking news alerts and more stories like this by subscribing to our mailing list.