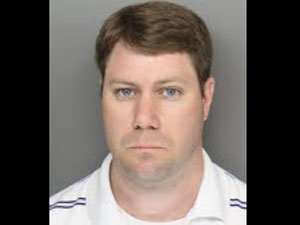 A South Carolina high school band teacher was forced to resign after he was accused of sexual misconduct with an 18-year-old female student.
According to reports out of Greenville, South Carolina, 30-year-old Brandon Scott Poston — a band director for Eastside High School and a part-time director at Greenville Middle School since August 2011 — was arrested on Thursday (May 30) after school officials received a tip earlier in the week that he might be involved in an "inappropriate relationship" with a student.
The police report states that the investigation confirmed that Poston and the student had sex more than once between the dates of February 20th and May 30th of this year at a residence, purportedly Poston's home, as well as the Comfort Inn hotel.
Poston was reportedly held on $10,000 bond at the Greenville County Detention Center, and per a condition of his bond, he is not to have any contact with the victim.
Though the sex between the teacher and the student was considered consensual, it is illegal for a "person affiliated with a public or private secondary school in an official capacity who has direct supervisory authority" over students to engage in sexual activity with each other.
Be the first to receive breaking news alerts and more stories like this by subscribing to our mailing list.