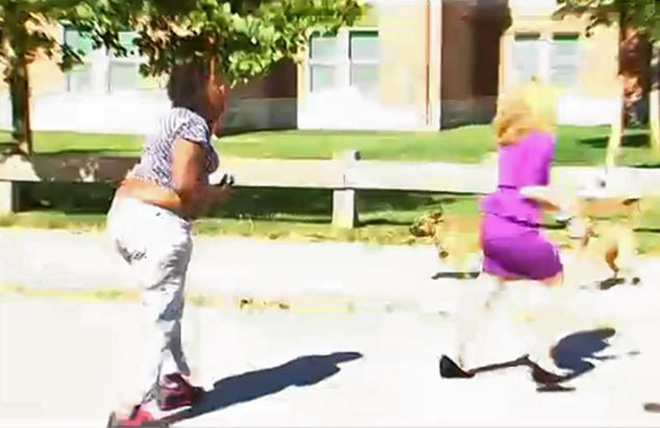 A Rhode Island mother, whose 16-year-old daughter was shot during a family member's graduation, made headlines this week after she sicced her pit bulls on a news reporter, and the entire incident was caught on tape.
Clearly in no mood for Channel 6 News reporter Abbey Niezgoda's questions, Melissa Lawrence threw a rock at the camera man after shouting "OK, that's good" when she was asked for a reaction to her daughter's shooting.
"I'll be right back," Lawrence said before returning with a metal bat. Then, she turned her two, huge, aggressive pit bulls on the woman, who dropped her mic as she tried to run from the dogs, screaming, but one apparently managed to bite her arm. Niezgoda and the camera man eventually got away and found safety behind some houses in the neighborhood.
Lawrence was arrested and charged with two counts of felony assault for the attack. She reportedly wore a pink "My Attitude is Your Problem" t-shirt to court, where she was later released on $50,000 bail and ordered to return for a hearing in August.
Lawrence's daughter Ny'asia has since been released from the hospital after being treated for a gunshot wound to her lower back, and is recovering at home.
Be the first to receive breaking news alerts and more stories like this by subscribing to our mailing list.