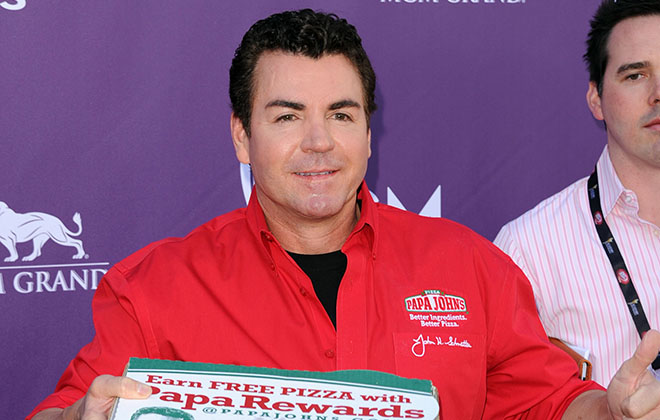 John Schnatter, the founder and chief executive officer of the famous pizza chain known as Papa John's, has apologized to a customer after a delivery man butt dialed them and accidentally left a racist rant on the their voicemail.
A video uploaded by the customer to YouTube that went viral this week reportedly featured the delivery man using racial slurs in a conversation he was having with a co-worker, in which he was complaining about the size of tips he receives from black people.
The unidentified customer, who chooses not to show his face on camera, shows the receipt for $15.26 and says that he gave the delivery man a $5 tip, more than 20%.
"I guess that's the only requirement for being a n**ger in Sanford," the driver can be heard telling his co-worker, who laughs. "Yeah, they give me five bucks there — fine outstanding African-American gentleman of the community."
But wait, it gets even better. The delivery man can also be heard singing the racial slur repeatedly in what he called an opera. And not only that, but the incident happened in Sanford, Florida — the same place where the unarmed teenager Trayvon Martin was murdered by George Zimmerman just a little over a year ago.
Amid the controversy surrounding his company, Papa John's CEO John Schnatter took to the restaurant's social media pages Monday and posted this:
Friends, I am extremely concerned to learn about the reprehensible language used by two former employees in one of our restaurants. Their thinking and actions defy both my personal and the company's values, and everything for which this company stands. The employees responsible for this absolutely unacceptable behavior were immediately terminated.

My heartfelt apology goes out to the customer involved, his family, and our community at large. I am very sorry that anyone would be exposed to these hurtful and painful words by any person involved in any way with our company.

Thank you for your important comments. I have personally reached out to our customer to share my own thoughts and offer my deepest apology.

Sincerely,

John Schnatter
Chairman and CEO
Papa John's
PREVIOUSLY: Papa John's Apologizes for Calling Asian Customer "Lady Chinky Eyes"
Be the first to receive breaking news alerts and more stories like this by subscribing to our mailing list.