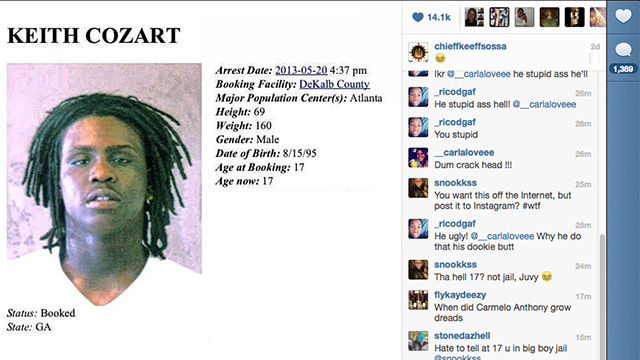 Chief Keef was arrested earlier this week, thanks to  affinity for the green stuff, and the actions of a snitching hotel security guard who called 911 and subsequently had the rapper arrested on marijuana charges.
According to TMZ, Keef was busted in Dekalb County, Georgia (near Atlanta) for disorderly conduct. Apparently, that "disorderly conduct" was smoking weed at a fancy hotel: The Le Meridan Hotel — right across the street from the Perimeter Mall in the Dunwoody area of ATL.
Keef, who just got out of juvenile prison after serving 60 days for violating his probation on a previous gun charge, tweeted this after he bonded himself out of jail early Tuesday morning (May 21):
Jus Got Out Of Dekalb County jail In Atlanta Mad As fuck ????????????????

— AlmightySo (@ChiefKeef) May 21, 2013
And of course, since Chief Keef is Chief Keef, he also posted his mugshot on Instagram (see above).
Meanwhile, the circumstances that lead up to Chief Keef's arrest, as TMZ reported, were quite hilarious. According to TMZ, "the squarest hotel security guard ever" was the person behind the 911 call that brought police to Keef's fancy hotel room and got the 17-year-old rapper arrested.
The call was made from a concerned security guard at the Le Meridien Atlanta Perimeter Hotel in Georgia who happened to stumble upon a bunch of nice hotel guests who happened to be partaking in some dope smoking.

During the call, the security guy alerts the 911 operator to "a bunch of gentlemen rolling marijuana and smoking … all in the room … the room's filled with smoke."

The security guard seems astonished … because, "I announced myself as 'security' and they let me in the room AS IF IT DOESN'T EVEN MATTER!"

The guy also warns 911 to send cops to the scene ASAP because he feared "those guys may just bolt."

He clearly doesn't understand stoners … they're not really known for "bolting" anywhere.

Eventually, cops arrived to the room and arrested 17-year-old Chief Keef for the weed … all thanks to the heroic actions of one really square hotel security guard.
LOLOLOLOLOLOL!!!
And just for good measure, listen to the 911 call here:
Be the first to receive breaking news alerts and more stories like this by subscribing to our mailing list.