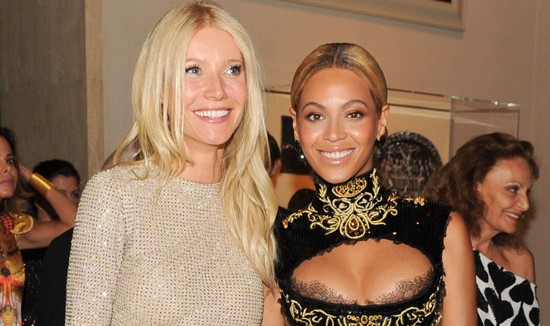 Fans are desperately wondering when Beyonce will release a new song from her upcoming, fifth studio album. While the singer is staying tight-lipped, her gal pal Gwyneth Paltrow is giving her fans some hints about when the album could be out.
"I've heard a lot, lot, lot of many songs," Paltrow said in an interview with Digital Spy." I don't know which ones have ended up on the album, but I've heard a lot as it's gone on."
"Yes, it's coming," Paltrow added. "She's almost done but she's got a lot on her plate."
Oh, OK. That makes us feel better now. Beyonce's new album will be in stores in Coming 2013. Sweet Jesus, what kind of cruelty is this?
So far, Beyonce fans have only gotten to hear a snippet of her new song "Grown Woman," which showed up in her new Pepsi commercial, and the track that got EVERYONE talking: "Bow Down/I Been On." But "Bow Down/I Been On" is either a mix of two separate songs or an intro to the album, not a legit single.
In other words, Beyonce's album is gonna get here when it gets here. MTV previously reported that it'd be out sometime within the next 8 months. We have no idea how the Beyhive is going to get through this tour and the entire summer with no new material.
Be the first to receive breaking news alerts and more stories like this by subscribing to our mailing list.