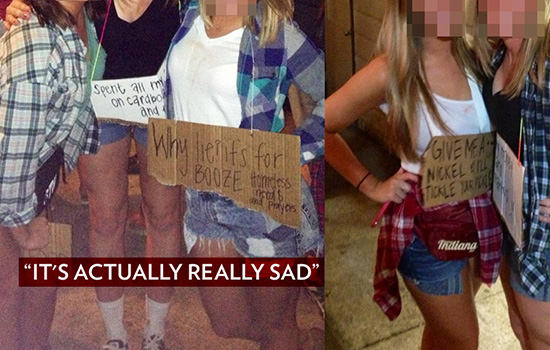 As the world plunges further into economic ruin, you would think that making fun of those that have nothing and are out on the street would be off limits. Not so for a certain group of sorority girls.
According to Jezebel, members of Indiana University's Kappa Delta chapter recently threw a homeless-themed party (yes, you read that right) in which the girls reportedly pretended to be begging for food and even applied fake dirt to their faces … just so, you know, they could look more homeless.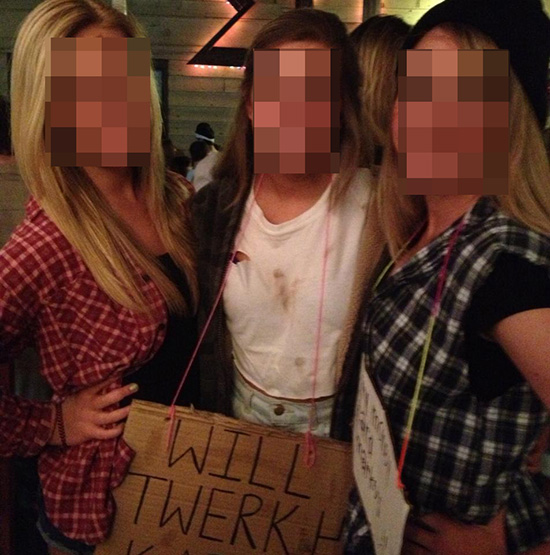 If that's not enough, they also wore signs around their necks that read things like "Will Twerk 4 [indistinguishable]" and "Give me a nickel and I'll tickle your pickle." (Yup, they joked about someone being so hungry and desperate that they have had to resort to performing sex acts just so they can eat.)
The Indiana University student who provided Jezebel with the shocking photos had this to say:
Just so you know, Bloomington, IN (home of IU) has a disproportionately high homeless population. They're typically the target of a lot of shit from students. They get treated pretty badly. It's actually really sad—one of the places homeless people tend to hang out is right across from the most popular student bar in Bloomington, and on pretty much any given night, you can hear students loudly ridiculing the homeless population while they sip their drinks.

Students will be out canning for money for their big national philanthropies, but when a homeless person asks for a quarter, they'll tell him or her to get a job. The greek system here does do a lot of philanthropic work, but homelessness, which is one of the biggest local problems we have, and a problem that the greek system has the opportunity to really help, is completely ignored.
[H/T: Jezebel]
Be the first to receive breaking news alerts and more stories like this by subscribing to our mailing list.