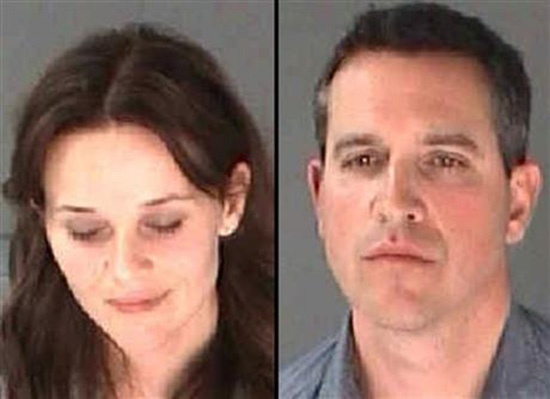 Reese Witherspoon let her inner Amanda Bynes take over this weekend when she got arrested early Friday morning in Atlanta after she went off on police as they were arresting her husband for driving under the influence.
As first reported by Variety, the "Legally Blonde" actress was riding shotgun early Friday morning (Apr 19) with her husband Jim Toth in their silver 2013 Ford Fusion when Toth was pulled over on suspicion of DUI after cops spotted him on Peachtree St. weaving across lanes.
In their report, police said Toth not only looked drunk, but he also reeked of alcohol, and his eyes were "blood shot and watery." Toth said he only had one drink, but he took a Breathalyzer test that stated his blood alcohol level was .139, well above the legal limit of 0.08.
As the cops were dealing with Toth, that's when Toth's equally inebriated 'superstar' wife decided to get all uppity and pulled the "Do you know who I am?" card, which eventually led to Witherspoon being placed in handcuffs, just like her drunk husband.
Variety has all the details here (pay especial attention to the bolded portions):
Toth was pulled over after midnight Friday driving a silver 2013 Ford Focus, which the officer witnessed weaving across a double line on Atlanta's Peachtree St. Toth appeared disheveled and his breath smelled of alcohol, according to the police report, prompting the officer to administer a sobriety test.

As Toth walked in the Walgreens parking lot where the officer instructed him to pull over to, Witherspoon became increasingly agitated from the vehicle, which prompted the officer to warn her to stay in the car for the sake of her own safety.

"Mrs. Witherspoon began to hang out the window and say that she did not believe that I was a real police officer," according to the police report. "I told Mrs. Witherspoon to sit on her butt and be quiet."

Once Toth was placed under arrest, Witherspoon exited the vehicle and was instructed to get back in the car. According to the report, she "stated that she was a 'US citizen' and that she was allowed to 'stand on American ground.'"

The officer then detailed how she resisted as he grabbed her arms to arrest as Toth attempted to calm her down.

As the report details, "Mrs. Witherspoon asked, "Do you know my name?" I answered, "No, I don't need to know your name." I then added, "right now." Mrs. Witherspoon stated, "You're about to find out who I am."

The report also specified, "Mrs. Witherspoon also stated, 'You are going to be on national news.' I advised Mrs. Witherspoon that was fine."
Reese Witherspoon — who should be applauded for clearly exercising and standing up for her right as an American citizen to be a drunken mess and get arrested for it — was right about two things.
One, the police officer did find out who she was — especially after he arrested her and booked her disorderly conduct. And two, he did end up on national news. Maybe she should become a fortune teller, because she's pretty good at predicting the foreseeable future.
For archival purposes, the full police report detailing the incident from the arresting officer's point of view is here.
Reese and Jim's car was impounded after were both hauled off to jail, and an unidentified passenger in the backseat caught a cab. The happily married couple — who tied the knot in 2011 welcomed their first child together last September — posted bail the next day and was released after sobering up.
On Sunday, after the news broke, Reese released the following statement:
"Out of respect for the ongoing legal situation, I cannot comment on everything that is being reported right now. But I do want to say I clearly had one drink too many and I am deeply embarrassed about the things I said. It was definitely a scary situation and I was frightened for my husband, but that was no excuse. I was disrespectful to the officer who was just doing his job. The words I used that night definitely do not reflect who I am. I have nothing but respect for the police and I am very sorry for my behavior."
Reese's lawyers met with the prosecutor Monday morning (Apr 22) and worked out a deal in which she will go through what is known as a "pre-trial intervention program" to avoid getting a criminal conviction on her record, a spokesman for the Atlanta Municipal Court said, according to CNN.
The court's website says that the program provides "alternative methods of resolving criminal matters other than prosecution."
The judge has scheduled a hearing in Atlanta for May 22nd to find out whether or not Reese is complying with the program. As for her husband Jim, his hearing is set for May 23rd.
Mugshots via AP
Be the first to receive breaking news alerts and more stories like this by subscribing to our mailing list.