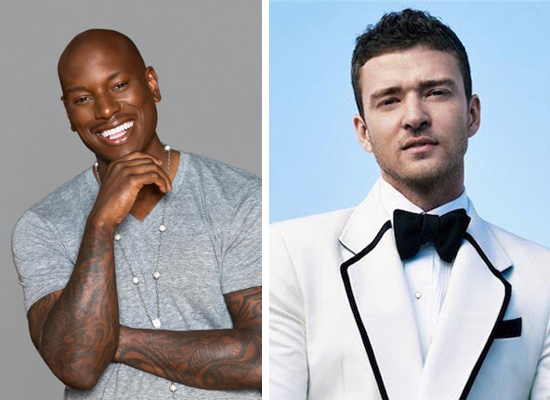 Tyrese Gibson says a lot of dumb shit. (There's a running archive of his dumbest tweets to prove it too) But comparing his lackluster career to Justin Timberlake's might be the dumbest of them all.
In an interview with AllHipHop.com, the "Sweet Lady" singer claims that his 2011 album Open Invitation sounded old school because he purposely didn't update his sound, just like Justin Timberlake hasn't with his smash-hit album The 20/20 Experience.
Will.i.am and Teddy Riley both tried to warn Tyrese that his dry, dated album wasn't the business but Tyrese didn't listen.
I didn't look at it as negative or disrespectful, I just said "Well, sh*t, my music is just not what's popping today."

This is good music and great songs, but I don't know if this will work if you release it today. It's like trying to use your 1989 education in a 2013 world. You're going to have to go back to school. Because I haven't dropped an album in about five years, when I got back in the studio, I picked up where R&B left off for me. Justin Timberlake did the same thing.

Although he's a white man, and white people singing soul R&B music will always sell and do way more, he rightfully deserves everything that he's accomplished. Just like Justin Timberlake, I shut off everything to go and do movies.
Ok. First off, Justin Timberlake starred in the Academy Award-winning film The Social Network, while Baby Boy is pretty much the highlight of Tyrese's filmography. Yes, he was part of the Transformers trilogy but nobody went to see those movies for Tyrese. They went for the special effects and Megan Fox.
On the music side, Tyrese hasn't ever really been a huge factor either. At best, he's a modestly successful R&B star. He's cracked the top 10 on the R&B charts but never made number 1 and as for the Billboard Hot 100, forget about it.
Justin Timberlake, on the other hand, has built himself a phenomenal music career as a solo artist. Without even including all of the hits under his belt as a part of NSYNC, Justin's prior solo albums solidified his role as pop royalty and a tastemaker.
Yes, his new album doesn't veer far from his strategy, but that's because he and Timbaland have established a sound together. Tyrese never did. He just ran through traditional R&B's slow jam tropes.
So, no, Tyrese, your career is not like Justin Timberlake's. That'd be like Keyshia Cole claiming her life is just like Beyonce's because she got married and had a baby.
Have a seat, sir.
Be the first to receive breaking news alerts and more stories like this by subscribing to our mailing list.