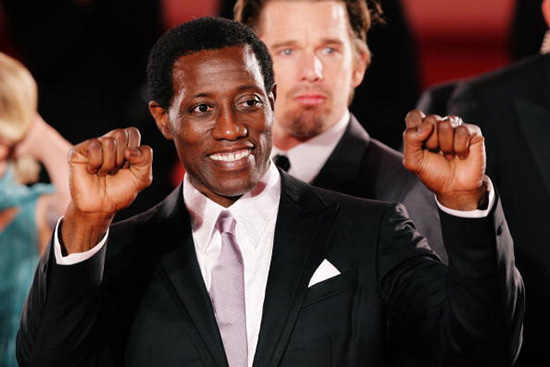 Believe it or not, it's been almost three years since Wesley Snipes went to prison for tax evasion.
And now that he's nearing the end of his term, the judge is allowing him to serve the rest of it on house arrest, according to reports from Reuters.
U.S. actor Wesley Snipes has been released from prison and will spend the next four months under house arrest to complete his three-year prison sentence for tax evasion, a spokesman for the U.S. Federal Bureau of Prisons said on Friday.

The action film star, best known for the "Blade" trilogy, was released from prison in northwestern Pennsylvania on Tuesday and will be under house arrest until July 19, the spokesman said.

Snipes, 50, was convicted in 2008 of three misdemeanor counts of failing to file tax returns but was acquitted of felony fraud and filing false tax claims.
Prosecutors argued that Snipes had earned more than $38 million between 1999 and 2006 but failed to file income tax returns or pay any taxes during that time.
Damn. Wesley went to jail longer than Lil' Wayne did. If there's one lesson to learn from all of this, it's that not paying your taxes can be more devastating to your career than a gun charge. So pay your taxes and keep it movin' homie.
I bet you the first thing Wesley's gonna do when he gets home is catch up on all the TV he's missed for the past two years. There's probably a rack of "Real Housewives of Atlanta" episodes that he needs to catch up on.
Be the first to receive breaking news alerts and more stories like this by subscribing to our mailing list.