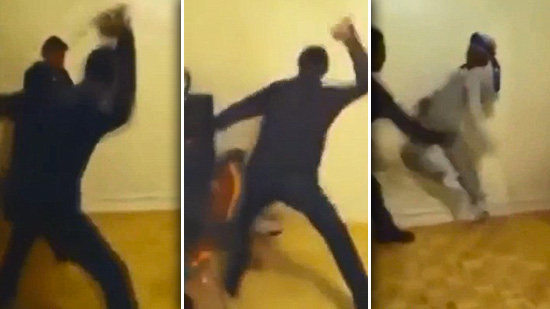 Yet another disturbing video has gone viral on the Internet. This one shows a father beating the brakes off his daughters after he found out they posted a video on Facebook of them "twerking."
For the uninitiated, twerking is defined by the Urban Dictionary as the "rhythmic gyrating" of the lower part of the body — preferably a woman's — in a "lascivious manner with the intent to elicit sexual arousal or laughter in one's intended audience."
So basically, these young girls put up a video of them shaking their asses on Facebook … and daddy don't play that.
The video clip shows the man as he dishes out the brutal punishment by beating his daughters with a rolled up cable cord. He beats them one-by-one as they yelp and scream in pain. The entire thing is extremely unsettling, and is not for the faint of heart.
The video first showed up on Facebook on this past weekend, but has since spread to YouTube and WorldStarHipHop and has been seen by millions of people online over the past few days.
No official word on when or where the video was shot, but it is assumed to be here in the United States. The identities of the subjects in the clip are unknown as well.
WATCH THE CLIP HERE — BUT BE WARNED, IT IS VERY DISTURBING!!!
Your thoughts? Do you think the dad went too far? Or do you think he was justified?
Be the first to receive breaking news alerts and more stories like this by subscribing to our mailing list.