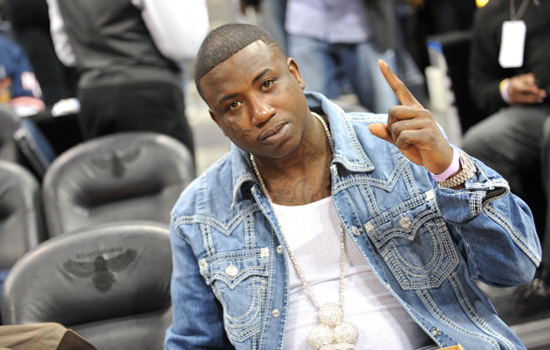 Gucci Mane just can't seem to keep himself out of drama or trouble. Gucci is reportedly wanted by Atlanta Police after he allegedly cracked a bottle over the head of fan … who just so happened to be a soldier.
The soldier apparently approached Gucci in the VIP section of Atlanta's Harlem Nights club on the evening of March 15th when things got ugly.
The solider, who refers to himself as "James" to the media, asked one of Gucci's security guards to take a picture with the rapper, and Gucci reportedly hit the man over the head with a champagne bottle.
"And as I looked at him in the shock of why, one of his friends hit me in the side of my face," James said.
He was rushed to Grady Memorial Hospital and received 10 stitches for the cut on his head. James, who serves in the Army, was out with friends celebrating his birthday.
Atlanta police have now issued a warrant for Radric Davis (Gucci Mane's real name) for aggravated assault, according to TMZ.
Gucci was as at Harlem Nights promoting the release of his mixtape "Trap Back 2." His new movie "Spring Breakers," in which he stars alongside Vanessa Hudgens, Selena Gomez and James Franco, was also released this month.
Interestingly, this was also the very same night Gucci took to Twitter to announce Waka Flocka was no longer a part of his label 1017 Brick Squad, in which his camp later released a statement saying his twitter was "hacked."
Something had to be wrong with Gucci that night. He either took a dose of some bad drugs, or he really has some serious mental issues. Then again, it could be a combination of both.
We haven't heard Gucci's side of the story related to the Harlem Nights incident, but it sure isn't far fetched for Gucci to just have been annoyed when he decided to strike the solider over the head for NO DAMN REASON at all.
We'll wait to hear how Gucci and his team will try to defend this one. There's 2 sides to every story right?
Be the first to receive breaking news alerts and more stories like this by subscribing to our mailing list.