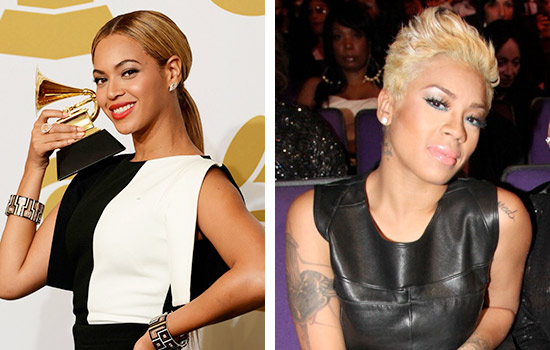 It seems as though Keyshia Cole is getting more recognition for her Twitter feed than her music these days. Clearly not a fan of Beyonce's new "Bow Down / I Been On" track, the struggling R&B singer took to her Twitter earlier today to slam the singer, writing:
Can't stand when people all self righteous when it's convenient it makes them look good. Lmao! But can still talk shit when convenient 2 FOH

— Keyshia Cole Gibson (@KeyshiaCole) March 18, 2013
I done kept it real from the start! #RespectTHAT

— Keyshia Cole Gibson (@KeyshiaCole) March 18, 2013
First "Women need to Stick together" now bitches better Bow. Smh. But it's all G! Chicks stay shooting the shit. … tmi.me/OnGp7

— Keyshia Cole Gibson (@KeyshiaCole) March 18, 2013
It's worth noting that this isn't the first time Keyshia Cole has brought attention to herself on Twitter. You'll recall that just last month, Cole dissed Beyonce's Destiny's Child bandmate Michelle Williams after they performed at the Super Bowl, saying that Williams is always "fuckin the groove up."
Michelle responded indirectly with a note on her Facebook page that read: "It was an honor to share the stage with my sisters Kelly Rowland and Beyoncé on Sunday night. To all my ladies, we must learn to stick together and support each other. The incredible Alicia Keys and Jennifer Hudson did an amazing job too! Thank you to my sister Beyonce for sharing your moment with Destiny's Child. Love you!"
Kelly Rowland was asked about Keyshia Cole's diss toward Michelle, and her response was a lot more direct and a lot less diplomatic that her bandmate's. She told Rolling Stone that frankly, Keyshia Cole's comment wasn't even on her radar.
"It didn't even make it on my radar until other people brought it up. It didn't even matter," Rowland said. "We had a wonderful performance, and that's all I cared about. I was with my sisters and the three of us matter to each other, and that's all that counts. We matter to a lot more people, with all due respect, than her. So, I really don't care what she said."
Asked about Keyshia Cole's comments about Michelle and her reaction to "Bow Down / I Been On," Beyonce, with a puzzled expression on her face, said, "Excuse me? What is a 'Keyshia Cole?'" She added, "I'm sorry, I don't know what that is. I'm busy rehearsing for my world tour that sold out in 10 minutes. I don't have time to Google that." [*]
Apparently, you have to have at least one Grammy Award for Beyonce to recognize your existence.
[*] NOTE: That didn't really happen, but you get the point.
Be the first to receive breaking news alerts and more stories like this by subscribing to our mailing list.