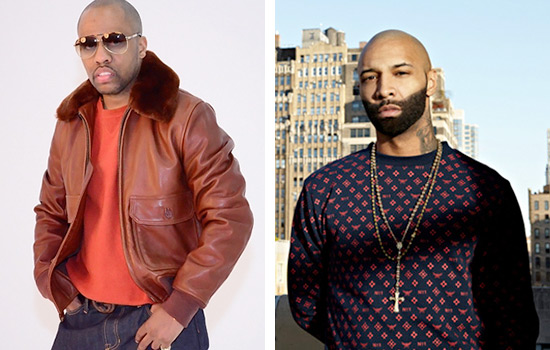 Minus a few random incidents, overall, Season 3 of "Love & Hip Hop" New York has been a total snooze fest, but it sounds like the show is going out with a BANG!
During yesterday's taping of the "Love & Hip Hop" Season 3 reunion show, Consequence and Joe Budden got into a fight when Consequence SMACKED Joe Budden, apparently after some drama between the two popped off.
News of the fight broke Tuesday afternoon (Mar 12), after Consequence tweeted:
Just Smacked The SHIT outta @joebudden at the #LHHReunion Everybody have a Nice Day…. #QueensAllDay

— Consequence (@ItsTheCons) March 12, 2013
Joe Budden quickly responded with his side of the story on his own timeline, saying that Cons snuck him from behind, and was immediately "snuffed" by Tahiry!
During break Tahiry & I were headed outside to smoke.. Dude came behind, jumped & hit me as I'm walking away, Tahiry snuffs him, he runs…..

— Joe Budden (@JoeBudden) March 12, 2013
It was the most pussy display ever seen from a nigga to be quite honest… & it's all on tape, so y'all can see the pussy shit 4 yourself.

— Joe Budden (@JoeBudden) March 12, 2013
Yo @itsthecons u good or nah ?

— Joe Budden (@JoeBudden) March 13, 2013
Hope son ight, I was headed home & seen dude talking to police while Jen was crying.. #QueensAllDay tho

— Joe Budden (@JoeBudden) March 13, 2013
Dude was so quick to tweet about that sucka punch…… not so much now.

— Joe Budden (@JoeBudden) March 13, 2013
Back to this Justin Timberlake joint.

— Joe Budden (@JoeBudden) March 13, 2013
Right after the incident, Joe — still on the set of the reunion taping — called into Hot 97 DJ Angie Martinez's radio show and gave a quick rundown of what happened:
"It was a break and I grabbed Tahiry because me and her be fiendin' to go smoke a cigarette. So we're headed out and somebody runs up behind me and hits me in the back of the head with their hand … Tahiry snuffed him, he ran off and then eight security guards came and grabbed me up."
Joe said that he didn't have any cuts or bruises as a result of the scuffle, but said that the drama between the two of them wasn't over. Budden told Martinez that VH1 producers were trying to get him and Cons to return to the set to work out their differences, but Budden had a better idea.
"I think they're trying to get me and him on the stage now to see what his issue is, but I'm not gonna do nothing but invite him in the bathroom," Joe said, suggesting that he and the former G.O.O.D. Music rapper have a one-on-one fight away from VH1 cameras and security.
If you'll recall, even though you rarely, if ever, see them on camera together on "Love & Hip Hop," Joe and Consequence crossed paths last month when Budden crashed Consequence's Hot 975 interview to confront the Queens rapper about a supposed beef between them.
During their chat, which was videotaped and posted online, Budden calmly asked Consequence and his baby mama Jen the Pen if either of them had any issues with him, and after exchanging a few words, the two seemed friendly and it appeared as though their beef was squashed.
Guess not.
Be the first to receive breaking news alerts and more stories like this by subscribing to our mailing list.