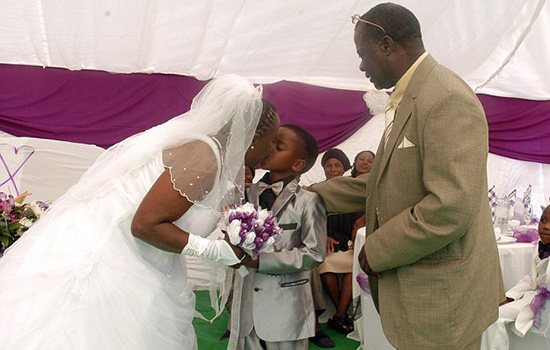 They say age ain't nothing but a number, but DAMN! This is really taking it to a totally new level. An 8-year-old schoolboy has married a 61-year-old woman who is old enough to be his grandmother … maybe even his GREAT grandmother!
Now why on earth would a prepubescent boy who probably hasn't even experienced his first wet dream yet get married to a woman who is more than 50 years his senior?
To appease the ghosts of his dead ancestors, of course. Why else?
According to The Independent:
Sanele Masilela and already married mother-of-five Helen Shabangu tied the knot at a ceremony in front of 100 guests after Sanele claimed his deceased ancestor told him he was in love with Ms Shabangu and asked the child to marry her on his behalf.
Wait, so this woman is ALREADY MARRIED?
Oh. okay. Carry on:
Fearing trouble with the spirit world if the wedding did not take place, all parties agreed that it must go ahead. The wedding, which was held in the municipality of Tshwane in Gauteng province, reportedly cost £1,000 [about $1,500 USD] and had the blessing of Sanele's family and Ms Shabangu's current husband.
Hold up, so this woman's husband actually AGREED to this nonsense?
My bad. Didn't mean to interrupt. Go on:
The marriage means eight-year-old Sanele is now the 'stepfather' to Ms Shabangu's five children, who are all aged between 27 and 37.

Although Sanele was said to be happy to go through with the marriage, it appears the groom already has his doubts over the long-term future of the couple.

"When I am older I will marry a lady my own age," Sanele apparently told reporters. He added that he still planned to "go to school and study hard."
In other words, "when I'm in my thirties or forties, this old lady will likely be dead, and I hope to find a woman that doesn't find it creepy that I am a widower to a 80 or 90-something-year-old woman."
Strange, to say the least, but thankfully this type of thing this doesn't happen often. At least in Sanele's family it doesn't, his mother assures.
"This is the first time this has happened in the family," said 46-year-old Patience Masilela, who works at a recycling center with her new daughter-in-law. "Sanele is named after his grandfather, who never had a white wedding before he died so [he] asked Sanele to get married. He chose Helen because he loves her. By doing this we made the ancestors happy. If we hadn't done what my son had asked then something bad would have happened in the family."
As for the more than 50-year age gap between her new daughter-in-law and her son, Patience says that she's perfectly fine with it "because I know it's what the ancestors wanted and it would make them happy."
Patience also was sure to note that her son's wedding was only a ritual, and wasn't a real, legitimately ordained ceremony.
Still, WTF?!?
CHECK OUT THE PHOTOS FROM THE BIZARRE UNION BELOW:
Pics from: Daily Mail
Be the first to receive breaking news alerts and more stories like this by subscribing to our mailing list.