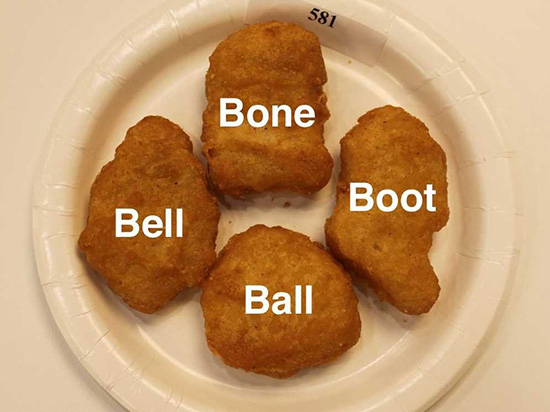 Stop … the … effin … presses! Did you know that McDonald's only has four official shapes approved for Chicken McNuggets? And if you did, then why didn't you tell me?!?
Business Insider was recently provided the rare opportunity to sit in on a quality taste-testing session for the fast food giant at their Oakbrook, Illinois headquarters, where they had "chicken professionals" from suppliers all over flown in to grade their nuggets.
There, the McDonald's "sensory team" explained that McDonald's has four distinct shapes for their Chicken McNuggets, and in order for any batch of Chicken McNuggets — which are not the same as "chicken nuggets" (FYI) — to meet the company's strict "Gold Standard" for quality, they must match one of those four "distinct" shapes as perfectly as possible.
Chicken professionals? Sensory teams? How does one apply to be a member of the Mickey Dee's sensory team? Where does one get a reference to show that he or she is a chicken professional? I know my chicken. Am I a chicken professional, and I just don't know it?
But I digress… According to McDonald's USA directory of sensor science Barbara J. Booth, the four shapes of Chicken McNuggets are Ball, Bone, Bell and Boot. (FYI: In Canada, they call the "bone" nugget "bow-tie")
But of course the perfect Chicken McNugget also has to adhere to other standards of quality, like flavor, breading and meat texture, bite firmness, color, coating, and more, Business Insider reported. "It's a strangely thorough process," the site noted.
Out of those four shapes, which one is your favorite?
Be the first to receive breaking news alerts and more stories like this by subscribing to our mailing list.