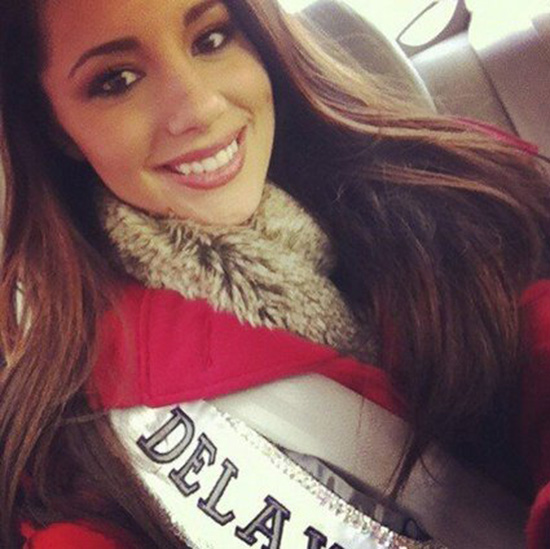 On Tuesday Miss Teen Delaware Melissa King resigned after a sex tape she purportedly starred in surfaced. The brunette beauty left her post even though she has claimed that it isn't her in the video.
In an interview with Delaware Online on Monday, King said that the girl "absolutely not" her. The video (NSFW!!!) was found on a site called Girlsdoporn.com, in which young women (often teens) agree to have sex on camera with a man whose face is never shown. It was shot just after King's (or whoever it is in the video's) 18th birthday.
The videos, which are usually about five minutes long, begin with the girls answering a series of personal questions, including why they are willing to be featured on the site.
King's doppelganger tells the camera that she "thought it would be fun" and that she "needed the money." She also says that she's done beauty pageants but doesn't go into specifics.
It's safe to say that King's career is over before it even began because as we all know sex tapes totally ruin lives. But not really. In fact, sex tapes often lead to worldwide fame and attention (see: Kim Kardashian, Paris Hilton).
Proof that sex tapes aren't a resume killer emerged on Thursday when TMZ reported that the porn website YouPorn has offered King $250,000 to be their spokesperson.
The site's offer reads:
"While you may have surrendered your tiara for Miss Teen USA, we'd like to keep that pretty head of yours topped with ours, and name you Miss Youporn … We believe your incredible beauty and personality coupled with our internet traf?c is a "win win" for both of us. We believe this story will only catapult your career and could really expose you to an entirely different audience."
No word yet on whether King has considered YouPorn's lucrative deal but you can expect her to be a "celebrity" competitor on a reality show any day now.
Be the first to receive breaking news alerts and more stories like this by subscribing to our mailing list.