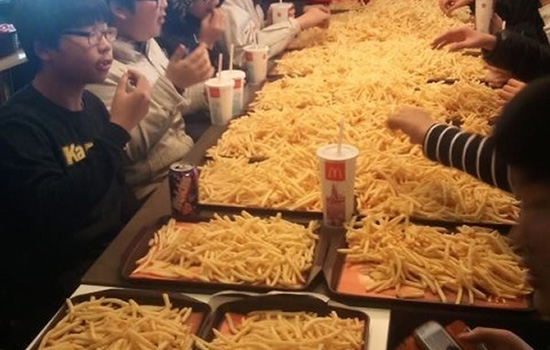 Thanks to a sale on french fries at McDonald's in Japan making those salty sticks of potato goodness a lot cheaper, local kids started throwing what are known as "potato" or "french fry parties" — which, according to Gawker, is basically when you buy a ridiculous amount of fries and spread them "feast-style" across multiple trays and dig in with your friends.
Apparently, the people who work for Mickey Dee's Japan aren't fans of those so-called "Potato Parties," which cause huge messes for low-wage workers to clean up, and besides that, leaving uneaten food behind is considered wasteful, and highly disrespectful in Japan, even if it is a fast food meal consisting solely of french fries … so it is customary for you to consume all of your fries. Every single one of them.
Not to mention the other customers in the restaurant who are forced to wait extra for their Big Mac value meals all because a group of bored, hipster kids decided to put in over two, three, or four dozen orders for french fries. According to Kotaku, one group of kids in Japan purchased sixty (Yes, 60!!!) large orders of french fries.
Now, Gawker reports, Potato Parties have made their way to South Korea, where a photo of a group of teens chowing down on a table full of fries recently went viral. But unlike their Japanese counterparts, the Korean kids paid a lot more for their fries, since there was no discount. According to one report, they spent as much as 270,000 won (or around $250) to host their Potato Party.
Having had enough of their shenanigans, McDonald's workers eventually threw the Potato Party attendees out for "causing trouble," so the party did end on a sour note, but the kids were still able to keep this memento of their epic meal: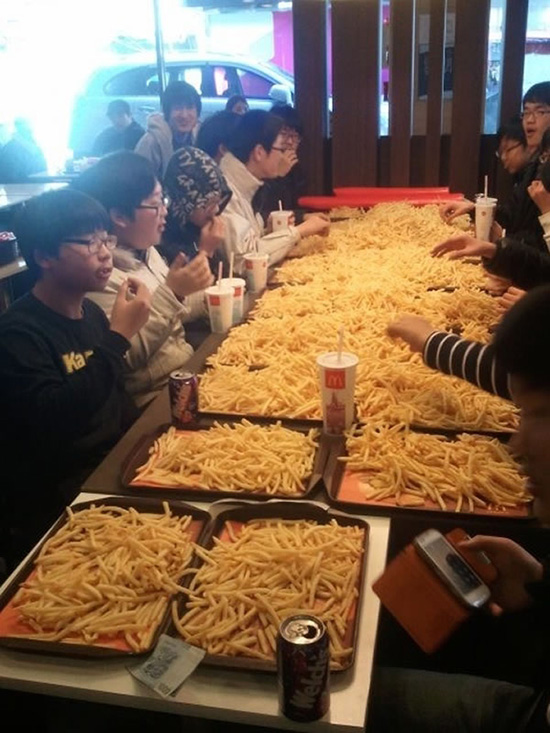 Be the first to receive breaking news alerts and more stories like this by subscribing to our mailing list.