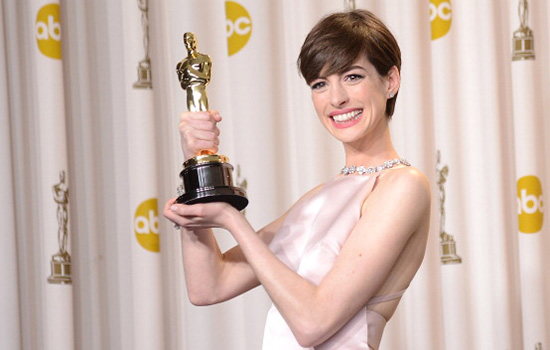 Somewhere between starring in "The Princess Diaries" and wining an Oscar for her role as the doomed prostitute Fantine in "Les Miserables," Anne Hathaway has acquired an immeasurable group of haters.
Could it be because she seems to be putting on a facade during interviews and award shows? Or is it because of her over-rehearsed and pageant-like acceptance speeches?
When she won the Golden Globe and said that she would use it "as a weapon against self doubt," did that lead to a few new Hathaway hating recruits?
Last month, Howard Stern attempted to explain why many are suffering from Hathaway fatigue.
"Let me sum up why people hate Anne Hathaway…First of all," Stern said. "She gets a speechwriter to write her speech…She's overly dramatic at these awards shows.
"She's always, always out of breath…She's even acting when she's winning an award. This is a performance…Calm f*cking down and stop acting crazy…It's a sh*tty award…You know how sh*tty this award is? Baba Booey voted in this."
Within the last few days, countless stories have been on Hathaway haters.
The National Post asked "Why does everyone hate Anne Hathaway?" while Screen Crush asked " Why Do People Hate Anne Hathaway?" A few other stories compared Hathaway to the more likable Jennifer Lawrence.
The Globe and Mail released the piece "Anne Hathaway vs. Jennifer Lawrence: Why we hate one and love the other?" and New York Magazine released the similarly titled "Why Do Women Hate Anne Hathaway (But Love Jennifer Lawrence)?"
The Huffington Post took an interesting perspective in "How Annoying Is Anne Hathaway: A Scientific Inquiry," which analyzed how many web users search for the actress name alongside words like "hate" and "annoying."
The Daily Caller listed "7 Reasons It's Okay to Hate Anne Hathaway," which claims that she "fake cried" during her acceptance speech and was "brown-nosing" Hollywood heavy weights.
Though the Hathaway backlash has reached an all time high this month, it has been bubbling since late last year.
In December, BuzzFeed compiled a list of why people claim to hate the actress and found that everything from her "HUGE mouth" to her "face" to the fact that she "ruins everything" annoys people.
The Globe and Mail questioned, "Hating Anne Hathaway: Is the Oscar backlash really necessary?" and Katey Rich of Cinema Blend rushed to the star's defense with the piece "Why Hating Anne Hathaway is Boring and Already Passe."
Unfortunately for fans of the "Princess Diaries" star, the pieces defending her, don't really give us much cause to like her nor do they adequately theorize why she has fueled such disapproval.
Rich notes that it's women, like Beyonce and Katherine Heigl, that typically fall prey to haters. She also delves into the public's love of Jennifer Lawrence.
The Anne Hathaway hate explosion has seemed all the more jarring because it's happened at the same time as the ascendance of Jennifer Lawrence, the goofy, always-hungry, super-viral star who went home with her own Oscar on Sunday night.

Jennifer Lawrence is awkward, Anne Hathaway is polished. Jennifer Lawrence laughs off her mistakes, Anne Hathaway puts her head down and works harder not to make them.

Jennifer Lawrence claims she doesn't read her scripts until the day she steps on to the set; Anne Hathaway loses 25 pounds to play Fantine in Les Miserables and does 20 takes of the wrenching song 'I Dreamed A Dream.'

Jennifer Lawrence is who we'd imagine ourselves to be if we were movie stars — unpolished but charming, and always herself. Anne Hathaway is probably who we actually would be — working damn hard all the time, and not always being able to hide it.
Since when is Jennifer Lawrence unpolished an awkward? The last time we checked, the glamorous actress was owning her super-stardom — save one little fall on her way to accept her Oscar.
And why would we making Hathaway out to be a martyr? So she lost weight for a role; actors are paid in part to transform into their characters, even if that means losing weight and so what if she sang a song for multiple takes? Since when does that mean someone should be deemed a hardworking perfectionist that deserves to be adored?
Be the first to receive breaking news alerts and more stories like this by subscribing to our mailing list.