A racy music video from a 9-year-old rapper who goes by the name of "Lil Poopy" has sparked an investigation to determine whether not the kid's father should be charged with child abuse or neglect.
The video, dated November 8th 2012 on YouTube, features numerous sexually suggestive scenes and references to drug use, and shows the 9-year-old flaunting machine guns, slapping the backsides of curvy women, flashing wads of cash and riding around in a Ferrari, while rapping about how "coke ain't a bad word." It's for his single "Pop That (Remix)."
Another video shows the boy in a nightclub dancing sexually with women, while people in the background throw cash, according to a CNN report.
The Brockton, Massachusetts, police department contacted the state's Department of Children and Families after receiving a call from a "concerned citizen" who saw the boy in videos featuring sexual themes and drug references. The state agency is brought in when there is suspicion of physical, mental, or emotional abuse of a child, according to Brockton police Lt. Robert Sergio.

"An investigation is now open," said Cayenne Isaksen, public affairs director for the state agency. Isaksen would not discuss details about the investigation, but added that non-emergency investigations typically take no longer than 15 days.
Lil Poopy, whose real name is Luie Rivera Jr. and is nicknamed the "Cocaine Cowboy," is reportedly a member of rapper French Montana's group the Coke Boys.
A 23-track mixtape from the 9-year-old on DatPiff.com features songs with titles like "Bout That Life," "Ima Coke Boy," and "I Don't Give A What."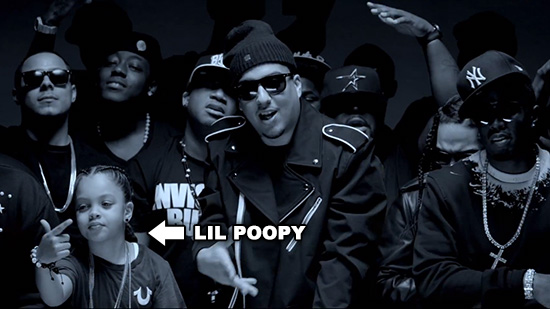 Poopy also appears prominently in French Montana's "Shot Caller" music video featuring Diddy and Rick Ross, and he's also performed with rappers Waka Flocka Flame, Meek Mill and Wale. So he's pretty legit.
Luie Rivera Sr. doesn't believe his son is doing anything wrong and says the allegations brought against him suggesting that the boy is either being neglected or abused are ridiculous.
"I love my son, I adore my son," Rivera told the Boston Herald. "He's not doing anything wrong. He's not doing drugs, he's not drinking alcohol. There are other kids out there killing kids, doing drugs, molesting. He's just singing hooks. He's not hurting anyone."
Rivera said Lil Poopy lives in Brockton, Massachusetts with his mother and attends school every day.
"The kid's got talent, why are they so worried about him rapping?" Rivera asked. "Everybody's got a dream. Muhammad Ali wanted to be a boxer. The kids on 'American Idol' want to do country or rock. He's doing what he wants to do, you can't knock him for that."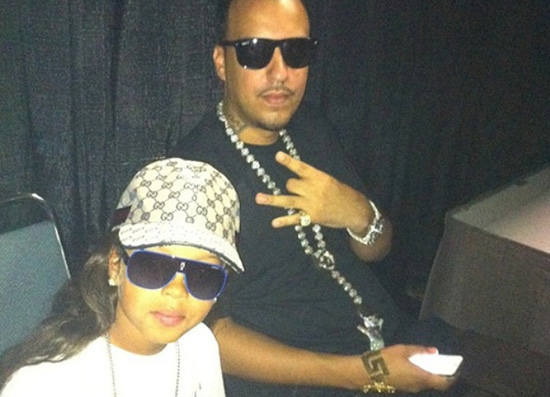 Rivera's lawyer Joseph Krowski echoes his client's outrage, telling local news station WCVB, "I find this absolutely absurd. I find it racially tinged. And I'm hoping that when their department takes a look at it, that this doesn't go any further."
"If you watch the videos, there are absolutely no crimes being committed," he said. "He's very adjusted, he gets good grades. He participates in extra-curricular activities. School always comes first. He just happens to have a God-given exceptional talent."
Krowski may have a point, but the Department of Children and Families is still continuing with their investigation, which will reportedly include interviews with everyone who lives in the child's home and anyone else who has regular contact with the fourth grader, like his teachers at school, for instance
If any criminal behavior is found, child welfare officials could then refer the case to the local district attorney's office, who would file charges against Rivera.
"The filers of this report wanted to make sure the child is being properly cared for. So the department will look into all aspects of this," Dept. spokesperson Cayenne Isaksen said.
Be the first to receive breaking news alerts and more stories like this by subscribing to our mailing list.