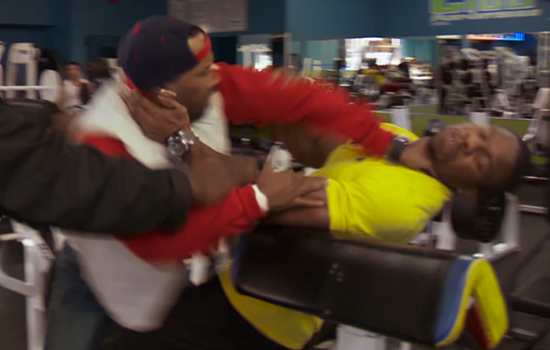 Oh yeah. It's fightin' time. THIS is why we tune into ratchet TV like "Love & Hip Hop."
Now that Yandy has dropped her baby load, she's looking trim down and firm up her post-partum body. So she turns to her cousin, Maurice, an ex-NFL player who runs a gym.
He advises her on nutrition and helps her work out three times a week. In exchange for this free physical fitness advice, Yandy agrees to promote her cousin's gym. Which pretty much means that he takes pictures of Yandy working out at the gym and posts it on Instagram saying, "Look! Yandy of 'Love & Hip Hop' fame is working out at my gym!" Which is all fine and dandy, except Maurice is taking some shots of Yandy from behind that don't sit too well with Yandy's baby daddy, Mendeecees.
While rolling around in his whip, Mendeecees pulls up a shot of Yandy on a bench lifting with dumbbells. Her backend is in the spotlight and since Yandy went upside his head for liking big booty pics on Instagram, he feels some kind of way about Yandy exposing herself like that. Which is kind of understandable, because Yandy apparently gave Mendeecees shit for posting shirtless pictures of himself on his Instagram. So turnabout's fair play.
"Take the Damn Picture Down!"
So Mendeecees pops up on Yandy after a gym session and peppers her with questions about the nature of the photographs Maurice is posting of her. Yandy is taken aback by the interrogation and tells him to cool off, they're just pictures. But Mendeecees ain't having that.
A few days later, Mendeecees shows up at Maurice's gym to have a one-to-one discussion with him about taking the "fucking" pictures of Yandy down. Maurice is in the middle of a bicep curl when Mendeecees barges in and he does his best to pay Mendeecees no mind.
If Mendeecees wants to have the pictures taken down, he should have Yandy tell him so he can take them down, Maurice says. Wrong move, bro. Before you can say, "Pumkash!" Mendeecees snatches Maurice up by the throat and pummels him.
Yo. Mendeecees looks sweet but he's all street. He handled the shit out of Maurice. But, um, that is Yandy's cousin. So we have a feeling that Mendeecees just made Thanksgiving dinner a little more awkward for the Smith family.
Joe's Girlfriend Grows a Backbone, Takes on Tahiry
Kaylin, the mouse in the house who's been meekly hiding in the shadows of Joe Budden's life for most of LHHNY, has finally decided to stand up for herself. After observing Tahiry pretty much waltzing back into Joe's life unchecked for most of the season, Kaylin finally opens her mouth and tells Joe that it's not cool for him to do a guest verse on her god-awful song, "Devil."
Joe plays a little bit of a mind game with Kaylin here because he makes it seem like Tahiry asked him to do the guest verse when in reality, he insisted on jumping on the track.
Kaylin, for the first time ever, tells Joe she's sick of Tahiry barging in on their life and acting like she has a say over what Joe does. Well, if Kaylin's this mad, she needs to go talk to Joe's mama, cause she's the one who rallied Tahiry to come to Joe's rescue when she found out he'd fallen off the wagon. And JOE said Tahiry was the closest thing he'd ever had to a wife in his life and he made the effort to maintain their "friendship" over and over again.
So if Kaylin wants to get buck with anybody, it should be Tweedledee (Joe) and TweedleDum (Joe's Mama). But of course, she doesn't. Instead, she goes after the woman.
When Tahiry visits Joe at his concert, the two start to clash and before you know it, Tahiry shimmies her centaur ass up and walks out the door with Kaylin screeching and howling behind her in protest. That's when Tahiry reaches back and mushes the HELL out of Kaylin's face.
After Tahiry murked Raqi, you'd think these bitches would've learned by now that Tahiry ain't the one.
Joe, to his credit, actually sticks up for his poor girlfriend Kaylin, instead of chasing after Tahiry like we know he wanted to.
Erica Mena Thinks She's the New Jenny from the Block
Now that Erica Mena has finally laid down a track in the studio, Rich Dollaz is trying to take Mena's career to the next level. But first, he has to get her to agree to signing a deal.
The two congratulate each other on a job well done and Rich asks Erica if she's ready to be the next J.Lo. Oh. So it wasn't just our imagination that those thin, auto-tuned vocals gave us "Love Don't Cost a Thing" flashbacks. Good.
Erica, meanwhile, feels like Rich should have a video budget and shoot date set for the single ASAP. Even though she didn't pay a dime for the recording and production of the single, and even though she's refused to sign to his management and record label.
Does Erica Mena think bills can get paid in pussy? We know that fuckin' for tracks is a thing but it ain't goin' down like that. At all.
Rich, however, is pussy whipped so he tries to see if he can round up some investors for the video budget, but reality hits him when the executive tells him, "Hell to the naw. Don't nobody know a damn Erica Mena."
When Rich breaks the news to Erica after she barges in on his workout session, she's less than pleased that she actually has to work her single before she'll get a video for it. Shock. Welcome to Music Industry 101.
Rich tells her she's not gonna be able to shortcut her way out of this and if she wants a video, she can line up hosting gigs to fund it. Mena, who was clearly expecting a free ride, mutters under her breath, stomps off and calls Rich a cheap ass.
So much for the independent women of the world.
Be the first to receive breaking news alerts and more stories like this by subscribing to our mailing list.