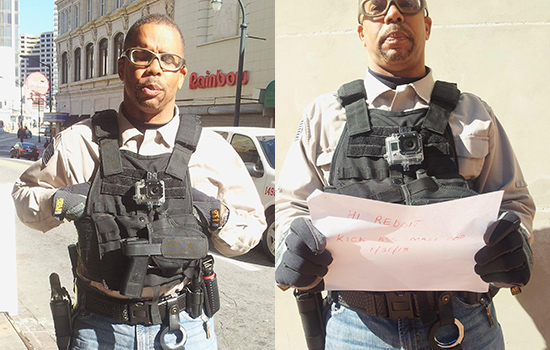 You might not know him by name, and you probably don't know his face, but if you've been on the Internet at all within the past few weeks … you've seen at least one of Darien Long's videos.
Darien Long is the property manager at downtown Atlanta's Metro Mall — a tiny indoor shopping center near the Five Points area — and thanks to a few appearances on Reddit and WorldStarHipHop, he's about $20,000 richer.
His most popular video shows him tasering an unruly hoodrat mother in front of her bad azz children after she physically assaulted him while those bebe's kids of hers shouted "YOU GAY! THAT'S WHY YOU GAY!" at him … all because he told them to quiet down.
"She decided that she wanted to put her hands on me," Long said, according to the AJC. "This time, I wasn't feeling her. So I tased her."
Other videos show Long defending himself while being heckled by a group of thugs and chasing known drug dealers away from the area. No one is tasered in those clips, but they all have something in common.
All of Darien Long's videos show that from hoodrat mothers to thugs and drug dealers, he doesn't take shit from anyone. And because of the no-nonsense approach he takes with his job, the Reddit community has given him the nickname "KickAss Mall Cop."
According to Atlanta's WSB-TV, Long, who has been on the job for about a year, carries a firearm, a Taser stun gun and wears a Go-Pro digital video camera on a bulletproof vest for protection.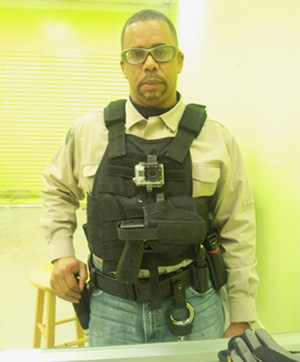 But Long, who is 5-foot-10, 200 pounds, says he's not trying to kick any ass at all. He's merely trying to keep the peace in an area of the city filled with crime.
"I feel like the taser and the camera are the two most effective tools that I have. Do what you're supposed to do or you get what's coming to you." he said in an interview with the news station. "What you need to do is clean up the neighborhood so other businesses can come in, and downtown Atlanta can prosper."
After seeing his videos online, one Reddit user went to go visit Darien Long:
RyuKenya: He is a nice guy and that area is very dangerous. There is a cop station around the block but people still sell drugs around there. He has to wear Kevlar and has his own mugshot book. He was not too proud about tasing the woman and wished it could have been avoided. He wouldn't mind doing an IAMA but he has to work. And yes… He said he wouldn't mind if you send him a beer…
After RyuKenya's post started to go viral on Reddit, they thought to open up a Paypal account for him so that he could receive donations from users on the community, which has about 43 million active users.
Using the crowdfunding platform CrowdTilt, RyuKenya set up a fundraising campaign for Long to "enable him to get better and more gear." At the closing of the campaign, it had received exactly $23,678.45, which was promptly delivered to Long on Saturday (Feb 9).
While he is very thankful for the donations, Long says he's just trying to clean up the streets the best way he can. "I don't care about the fame or none of that crap," Long said in a video interview with RyuKenya.
"What I want is street gambling to go away. The people who just hang down here to make money and be disruptive and for the drug dealing to leave this area. You can't ever get rid of all the crime in any city but it shouldn't be in such proximity to the seat of power of the state of Georgia and the city of Atlanta," he said.
Be the first to receive breaking news alerts and more stories like this by subscribing to our mailing list.