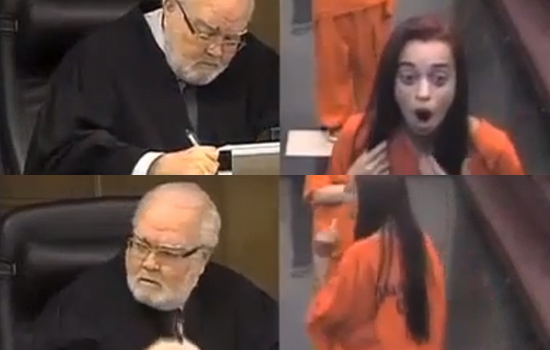 Penelope Soto, a Florida teen who was arrested for possession of Xanex, recently learned what most of us already know: don't disrespect the person that holds your freedom in their hands.
According to MSN Now, Soto was sentenced to 30 days in prison after flipping the bird to Miami Circuit Judge Jorge Rodriguez-Chomat. The no-nonsense judge charged her with contempt of court.
The offensive gesture was captured in a video posted on LiveLeak. The footage shows Rodriguez-Chomat asking Soto what her assets are. Soto said that she had a car and "a lot" of jewelry and that it was "like Rick Ross" and "worth a lot of money."
The 18-year-old maintained a snarky attitude throughout the entire exchange. Rodriguez-Chomat wasn't having any of that and in the words of 30 Rock's Liz Lemon, he shut. it. down.
"It's not a joke, you know, we're not in a club now. We are not in a club, be serious about it," he snapped.
The judge let her go with a bond set at $5,000 but when Soto decided to part with an obnoxious "adios," he increased it to $10,000. In other words, the gal got served!
When Soto asked "Are you serious?" He replied "I am serious. Adios." And that's when she flipped him off.
As if that wasn't enough, the feather-brained young woman also said to him, "fuck you," as she flipped him the bird.
Not surprisingly, Rodriguez-Chomat decided to punish Soto by sentencing her to 30 days in the slammer.
We're guessing she'll think twice before insulting a legal official in the future. Or not.
Be the first to receive breaking news alerts and more stories like this by subscribing to our mailing list.