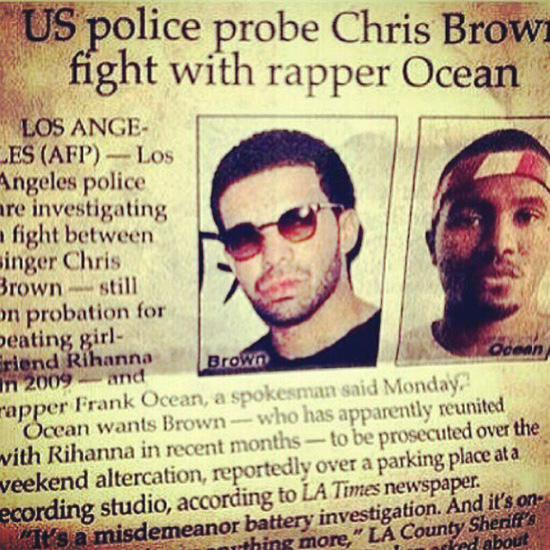 Last week, Chris Brown and Frank Ocean made headlines when they got into a fight outside a West Hollywood recording studio. Chris says Frank started with him, and Frank says Chris threw the first blows, while a friend of Frank says "Chris tried to beat the sh*t out of Frank."
Honestly, we may never know what really happened, since we're going off the accounts of people involved in the situation, and there's no way to get a clear story from anyone when it's like that.
But one thing we do know is that according to some newspaper, Chris Brown is Drake, and Frank Ocean is a rapper. Take a look at the caption above that says "Brown" (with Drake's picture) and the headline that calls singer/songwriter Frank Ocean a "rapper."
READ: Frank Ocean No Longer Wants to Press Charges Against Chris Brown

Now we can almost see how they would call Frank Ocean a rapper, seeing as he's affiliated with the controversial Hip Hop collective Odd Future … but shouldn't everyone know what Chris Brown looks like by now?
And Chris Browns looks nothing like Drake. At all. Not even close. Not even a little bit. Not on a train. Not on a plane. Not on a boat, and not even on a Macy's Thanksgiving Day Parade float. Not here, nor there.
Chris Brown and Drake don't look anything alike … anywhere.
[H/T: Necole Bitchie via uncle_paulie]
Be the first to receive breaking news alerts and more stories like this by subscribing to our mailing list.