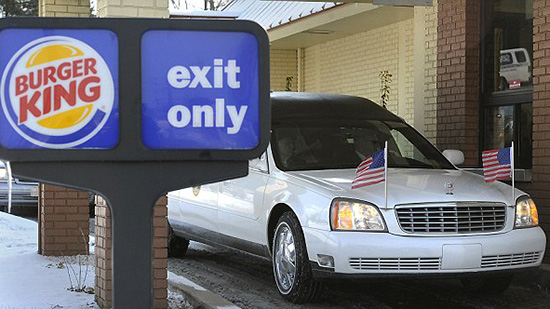 Before burial, the funeral procession of a Pennsylvania man who loved himself some fast food and "lived by his own rules," according to one of his three daughters, made a pit stop at a nearby Burger King, where at least 40 Whopper Juniors were given out to mourners in honor of the deceased.
88-year-old David S. Kime Jr., a World War II vet, passed away last week at York Hospital, and to pay tribute to his love of fast food and having it his way, his family made a pit stop at the Burger King drive thru on the way to his final resting place.
"He always lived by his own rules," his daughter Linda Phiel told the York Daily Record. "His version of eating healthy was the lettuce on the Whopper Jr."
Phiel added that since his wife died 25 years ago, Kime has been doing what he wants and eating what he wants.
"My mother kind of kept him in check," Phiel said. "When she died, for a while, he would eat with us. But he considered us health freaks because we ate things that were green, like broccoli."
Kime, who was borderline diabetic for years, had a pacemaker, and was told that a healthy diet would help him live longer.
"He would say, 'I won't live longer, it will just seem like it because I'll be more miserable faster,'" Phiel said. "[But] when you're 88 years old, I guess you've earned the right to do what you want to do."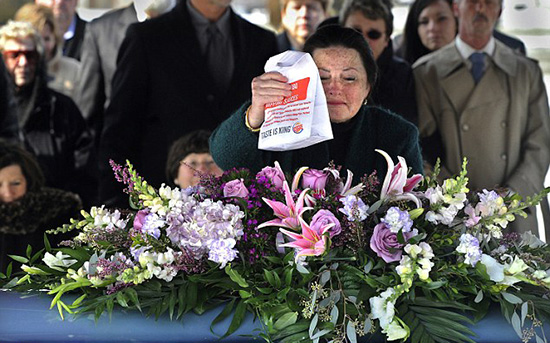 As Kime's funeral procession made its way through the drive thru, each mourner received a Whopper Jr. Having previously been notified of the procession's arrival, store manager Margaret Hess had 40 sandwiches prepared, including one for the deceased, which was buried with him.
"It's nice to know he was a loyal customer up until the end — the very end," Hess said.
Be the first to receive breaking news alerts and more stories like this by subscribing to our mailing list.