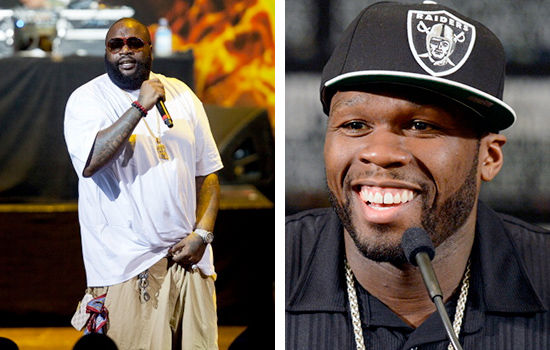 Rapper turned Twitter comedian 50 Cent is far from convinced that his arch nemesis Rick Ross was involved in a real drive-by shooting.
According to confirmed reports, Ross crashed his Rolls Roys into an apartment building in Ft. Lauderdale, Florida early Monday morning (Jan 28) after he lost control of the vehicle as he avoided gunshots aimed at his car.
Police say "dozens" of shell casings were found at the scene, while witnesses reported that they heard up to 15 gunshots. Neither Ross — who had just left a party celebrating his 28th birthday — nor his passenger, rumored girlfriend fashion designer Shateria Moragne-el, were injured.
But Fiddy believes that the whole thing was staged, and let it be known via Twitter by making fun of "fat man" Rick Ross for panicking and crashing his car, and questioning how the shooter(s) totally missed their mark.
Fiddy and Rozay have been involved in a longstanding beef that dates back to 2009, when Ross claimed that 50 had looked at him the wrong way at the BET Awards, but 50 said he didn't remember seeing Ross at the show.
From there, the two traded insults over social media and through their music, and they've been at it ever since, though it's been pretty dormant in the past few years, with the exception of last year's BET Hip Hop Awards, when Ross' Maybach Music Group artist Gunplay got into a fight with 50's G-Unit entourage.
In 2008, it was revealed that Rick Ross (born: William Leonard Roberts) worked as a correctional officer before he became a rap superstar, which poked holes in his drug king pen persona and claims that he was affiliated with the Carol City Cartel and other well-known gangs.
Ross initially denied the claims, but after overwhelming evidence of his past began to turn up, he later admitted that he did work as a CO in Florida during the early 1990's. Two years later, he was sued by the REAL "Rick Ross," who had taken offense that a former police officer had been using his moniker to build a rap career.
So, considering Ross' history of lying and fabricating aspects his life for publicity and record sales, it's very plausible that he could have "staged" Monday's drive-by shooting as a means to make himself look more "gangster."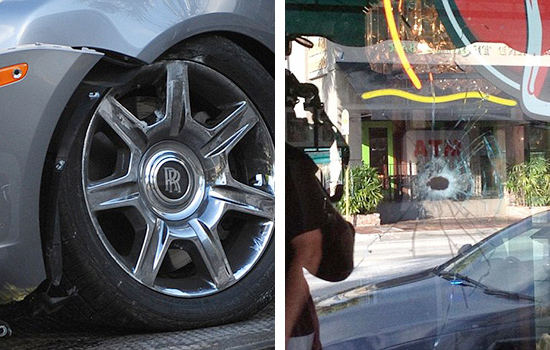 But despite 50 Cent's accusations on Twitter, the drive-by shooting was indeed a serious incident. Photos taken of the scene showed that bullets really did hit Ross' vehicle, leaving holes in the tires, bumper and the car's front lights.
A local newspaper also reported that one of the bullets fired at Ross' car pierced the front window of a diner where the rapper had been enjoying a late-night meal following his birthday celebrations at Liv nightclub in Miami earlier that night.
Sorry Fiddy … but it looks like Officer Ricky is telling the truth this time.
Be the first to receive breaking news alerts and more stories like this by subscribing to our mailing list.