Clean. Spotless. Immaculate. Flawless. All words that can be used to describe Beyonce's stage presence. So it's no surprise that her rendition of the U.S. National Anthem (aka "The Star Spangled Banner") during President Barack Obama's Inauguration ceremony would be described using one of those words.
WATCH: Beyonce Sings The National Anthem at President Obama's Inauguration
However, what is surprising (depending on how you feel about Beyonce, of course) is that the singer LIP-SYNCHED HER WAY THROUGH THE WHOLE THING! Omg, Beyonce LIP-SYNCS? No way!
Marine Corps Band spokesman Kristen DuBois revealed the earth-shattering news to The London Times today, explaining how it is standard procedure to record a backing track, and shortly before her performance, Beyonce chose to rely on the studio version, rather than risk singing the song live.
"We all know Beyonce can sing," Master Sgt. of the U.S. Marine Band Kristin DuBois told ABC News. "We all know the Marine Corps Band can play. We do not know why she decided to go with the pre-recorded music at the last minute."
So does that mean that the music was pre-recorded? Or were Beyonce's vocals pre-recorded? OR BOTH?!?
According to the Washingtonian … BOTH. Unfortunately. (Sorry Beyonce stans fans!)
The press, seated just below the podium in front of the Marine Corps Band — also known as the "President's Own" — could tell that the band wasn't actually playing anything during the song, despite band director Colonel Michael J. Colburn's energetically waving his hands up and down as if he were really conducting live music.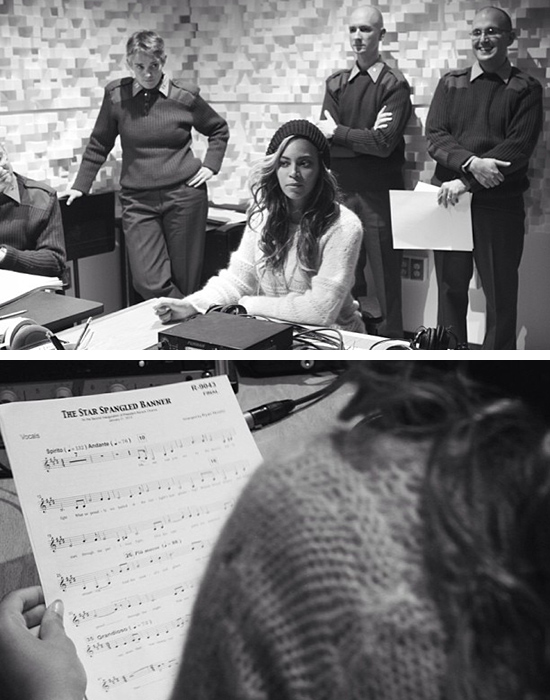 Also, proving that a recording of the performance actually does exist (and not seeming to care that everyone knows it), Beyonce posted pictures to her Instagram account the day before the Inauguration that showed her in a recording studio. In one of the photos, she is holding a copy of the sheet music for "The Star Spangled Banner."
So is it really a surprise that she chose to use the version she recorded, instead of singing it live? Not really, but that hasn't stopped everyone from making a super huge deal about it.
But what about that earpiece thing she ripped out? The whole world was so impressed when Beyonce continued to sing, even though she couldn't hear herself. So if she was really lip-syncing (as they say she was) … wouldn't removing the ear piece cause her to not be on track with the background music?
Beyonce has yet to respond to the lip-syncing allegations, and probably won't, but even if she did lip-sync … that doesn't change the fact that Beyonce is still a talented singer (HELLO! It was still HER VOICE!) and is probably one of the greatest performers alive. And you can't "fake" that.
How do you feel about Beyonce lip-synching the National Anthem?
Be the first to receive breaking news alerts and more stories like this by subscribing to our mailing list.