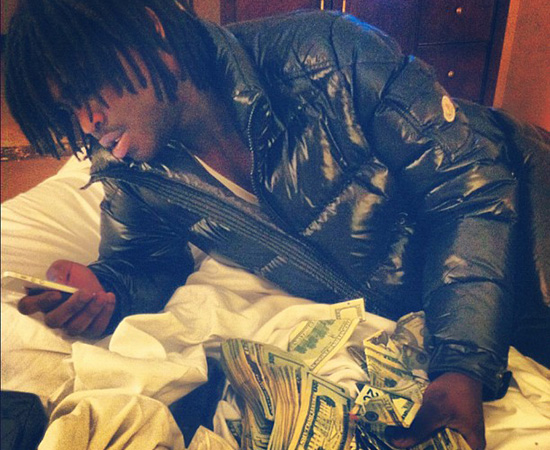 In today's "WTF?!?" news, rapper Chief Keef — who was recently sentenced to two months in juvenile prison for violating his probation — is getting sued for child support by a girl who is still in freaking MIDDLE SCHOOL!
According to TMZ, the girl filed a petition for child support in Chicago claiming that Chief Keef (born: Keith Cozart) fathered a daughter with her back in 2011 when he was just 15 years old. (FYI: Chief Keef also has another 1-year-old daughter named Kay Kay.)
The girl's exact age is unclear, but according to the docs, she currently attends a Chicago middle school — meaning she was .. at MOST … in 8th grade when she conceived the child, but could have been in 6th grade.
In the state of Illinois, it is a misdemeanor for two people under the age of 17 to have sex, even if it is considered to be consensual and they're in a "relationship."
When both parties are between the ages of 9 and 17, the older person is committing "criminal sexual abuse" and could face a maximum sentence of one year in jail, and also be required to register themselves as a sex offender for 10 years.
But thankfully for Chief Keef, cases like these are almost never prosecuted, and the since the girl's parents haven't pressed charges by now, they probably don't have any plans to do so.
The middle schooler is reportedly suing Keef for an undisclosed amount of child support, including health insurance and other medical expenses.
Last week, Chief Keef begged a Cook County Judge to not put him behind bars for violating his probation stemming from a 2011 gun conviction.
Reading aloud from notes on a crumpled piece of paper, Keef explained to the judge how he was on the verge of completing his GED and was the father of two young daughters.
"I'm sorry for all the wrong I have done," the choked-up 17-year-old told Judge Carl Anthony Walker as his lawyer patted him on the back. "I just want you to know I can do (better)."
Using Keef's own lyrics against him, Assistant Cook County State's Attorney Jullian Brevard countered Keef's plea and reminded the judge about two previous drug arrests on the rapper's record before his 2011 gun conviction for pointing a weapon at a Chicago police officer.
"He's been given ample opportunities to stop this behavior," Brevard said.
Get it together, Sosa.
Be the first to receive breaking news alerts and more stories like this by subscribing to our mailing list.