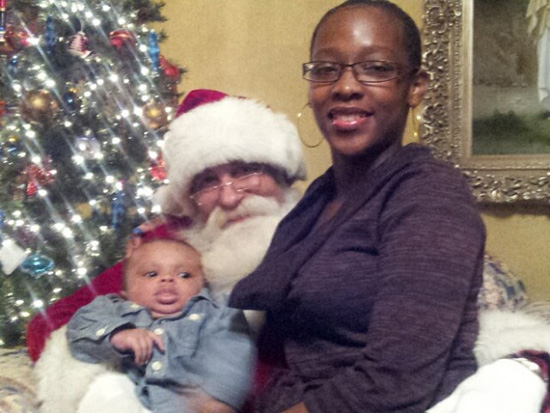 Some very sad news out of the state of Oklahoma. Police have confirmed that the body of a missing 30-year-old woman from Oklahoma City was found in the trunk of her car Tuesday in a St. Louis, Missouri neighborhood.
Ebony Jackson's family says that she was visiting some friends the St. Louis area last week, but no one had heard from her since last Thursday.
Days earlier, her 3-month old son was found abandoned in a car seat in the hallway of an apartment building in Breckenridge Hills, MO. The child was clean, warm and in good health, and reportedly a full bottle nestled next to him.
While Jackson had a troubled relationship with her baby's father, police have no immediate suspects, and have no idea how she went missing and ended up dead in the trunk of her car, and how her baby ended up inside the apartment complex. Foul play is suspected, and police are checking her phone records for any clues.
"It's just totally out of character for her to be in a neighborhood like this, or just the car being in a neighborhood like this," one family member told Channel 9 News in Oklahoma City.
Not much is really known about Jackson, other than her arrest history in Oklahoma City — three since 2005 (one for assaulting an OKC police officer, another for stealing from Dillard's, and the most recent for using her son's stroller to hide stolen merchandise at a local Walmart). Her family tells police that she suffered a brain injury in the past that causes her to have severe memory loss and mood swings.
Jackson's boyfriend is in St. Louis at this time trying to bring their son back to Oklahoma where he lives.
[News 9]
Be the first to receive breaking news alerts and more stories like this by subscribing to our mailing list.