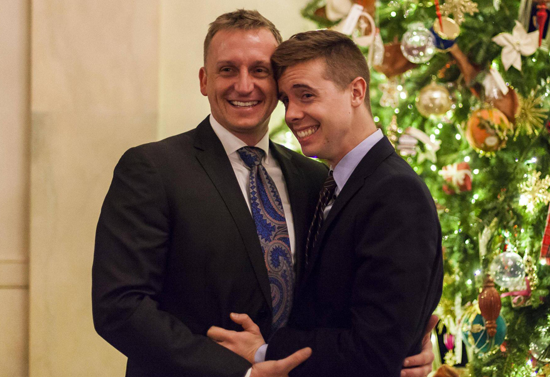 Depending on your political views, this is either a great step toward a more tolerant, progressive America or a horrible step backward into a lawless, doomed civilization.
The anti-gay "Don't Ask, Don't Tell" military policy has forced homosexuals serving in the military to live a closeted life if they wished to remain in the military.
It has prevented these servicemen and women from being who they truly are and it has meant that many qualified, decorated military personnel have been booted from service for being honest about their sexuality.
President Obama officially put an end to the discriminatory policy last year, and now, society is starting to see the real-world effects of the policy shift.
Matthew Phelps and Ben Schock are two gay men who are madly (and proudly) in love. Phelps, however, is an active marine, so prior to Obama's end to DADT, he couldn't openly share his relationship with Schock to the world.
So perhaps in a nod of thanks to Obama, Phelps proposed to his lover while the two were visiting the White House.
"Thanks for all the wonderful greetings and messages, and thanks to Barack Obama and Michelle Obama for lending us your home for the occasion!" Phelps wrote on Facebook.
"[Ten] years ago when I enlisted in the Marine Corps under DADT, I never imagined I would one day propose to the man of my dreams, much less as a Marine captain still on active duty and at the White House," Phelps wrote in another post. "Thank you all so much for your love, support, and continued hard work to make our world a better one."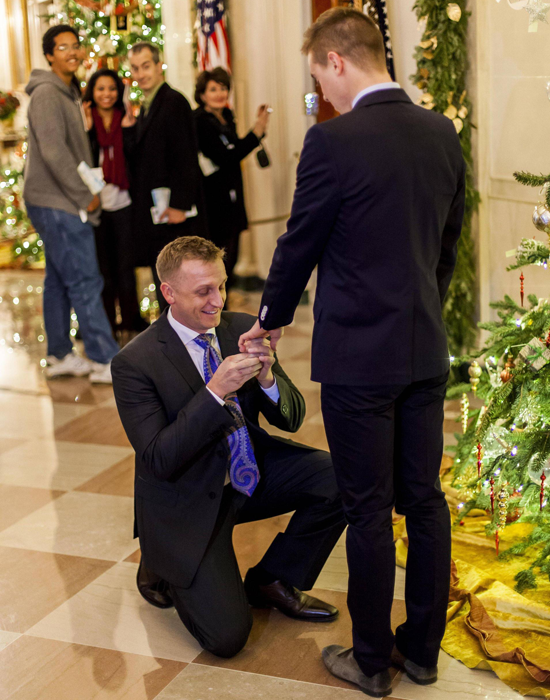 Obama's pro-gay rights stance has at times put him at odds with the black community, which has historically been opposed to gay marriage.
But the times are changing and gay is becoming the new normal. So cheers to Matthew Phelps and Ben Schock on their historic engagement at the White House.
Be the first to receive breaking news alerts and more stories like this by subscribing to our mailing list.