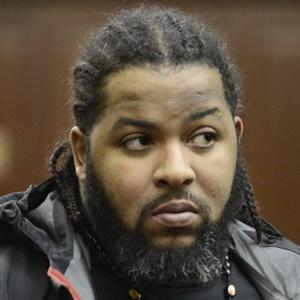 There's "overprotective" … and then there's just plain crazy. And the dad from New York City who showed up at his daughter's high school, swinging a heavy chain in the air and shouting, "Who's fucking my daughter?!?" is definitely the latter.
According to the NY Post, 35-year-old Michael Canaii (pictured here at his arraignment in court last week) showed up at the High School of Graphic Communication Arts in New York City picking a fight with just about anyone he came across.
One person at the school told police Canaii, who was dressed in all black, yelled, "Who's fucking my daughter?"
According to law enforcement sources, "He was yelling and complaining that his daughter was smoking weed and not listening to him, and he wanted the school to do something about that."
When Canaii first showed up at the school at around 9 a.m., he insisted on talking to his daughter. One student said:
"A man was outside with a chain. He was saying, 'Where is my daughter?' He was swinging the chain saying, 'I'm going to fuck you all up!; One guy said something sly, and he took off after the guy and ran into the school."
Another source said once the belligerent father made it inside the building, he "asked two students to take their stuff off and fight him in the lobby. He also asked security agents and a dean to 'fight' him as he was swinging a big chain around yelling, 'No one is going to touch me!"
Thankfully, no one was hurt … and Canaii was arrested, briefly hospitalized and arraigned in Manhattan Criminal Court after being held on $5,000 bond.
His lawyer reportedly told the judge Canaii went mayhem on the entire school "because he feared his daughter was involved in gang activity."
The man's aunt, Sondra Williams said that the girl lives with her mother — thank God!! — and described Canaii as a "decent father."
Because all decent father's show up as their kid's school yelling at students and teachers and threatening them with a chain.
[NYP]
Be the first to receive breaking news alerts and more stories like this by subscribing to our mailing list.