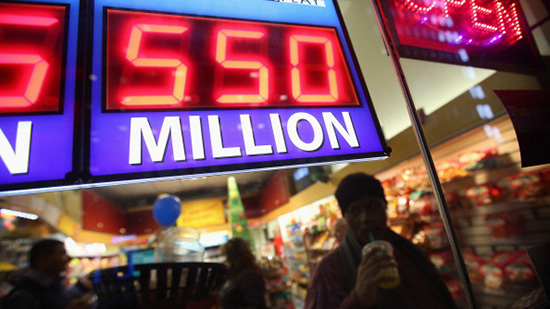 Here are the winning Powerball numbers for Wednesday, November 28th 2012:
5, 16, 22, 23, 29


Powerball: 6
Did you win? No? Maybe next time!
Wednesday night, the Powerball jackpot stood at $550 million $580 million — the largest in the multi-state lottery's history.
There haven't been any jackpot winners since October 6th, and a nationwide surge in ticket purchases caused the jackpot to reach more than half a billion dollars for this week's drawing.
If anyone wins, the cash payout will be worth a little over $360 million before taxes. If there is more than one winning ticket, the cash will be divided evenly among the winners.
The odds of winning the Powerball jackpot are 1 in 175 million. It's customary to remind lottery players that you have a better chance of becoming a celebrity or the next President of the United States, or getting killed in a shark attack or struck by lightening, than winning the lottery, which was worth over $600 million.
In fact, earlier this year, a man from Kansas was struck by lightening a few hours after buying lottery tickets for the Mega Millions lottery.
Before the strike, he reportedly told his friend, "I've got a better chance of getting struck by lightning" than winning the lottery. And lo and behold, at about 9:30 pm that night while he was standing in the back yard of his home, he was struck by lightening.
And no, he did not win. But someone else in Kansas did!
Life sucks, huh?
Be the first to receive breaking news alerts and more stories like this by subscribing to our mailing list.