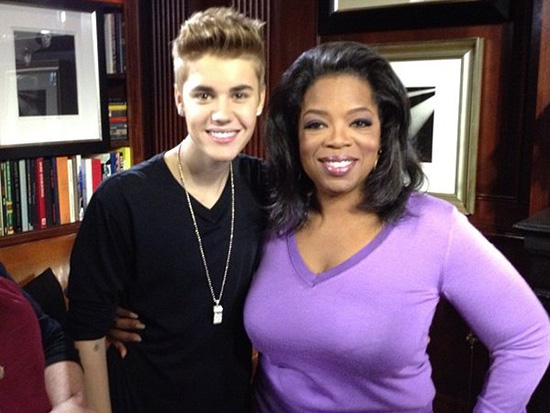 Justin Bieber sat down for an interesting interview with Oprah Winfrey on "Oprah's Next Chapter" Sunday (Nov 25), in which he discussed a number of topics, including his relationship with his now ex-girlfriend Selena Gomez (they were together when the interview was filmed last month), his favorite things — including his favorite celebrity crush Beyonce (who he says is "amazing") — the challenges of fame, and more.
About his then girlfriend Selena, Justin said, "I'm really about genuine people, and I feel that she's one of the most genuine people. She just has a really good heart. I can talk to her about anything."
"I get lonely sometimes, yeah," the Biebz admitted to Oprah. "You just feel sometimes like you need someone to be there with you — that can be lonely. Some days you just feel what you've gone through, you have pain in your heart because maybe you haven't dealt with that. Some days you're depressed and you don't know why because you haven't dealt with it."
Bieber said he doesn't "have a lot of friends," but he's doing his best to maintain a normal life. "There's so many sacrifices. . . but at the end of the day, I've been able to do so much that I would have never been able to do."
Oprah also questioned the young Pop star about his desire to marry young. "You are Oprah and you're telling me not to get married at 25. I should probably listen to you," Bieber said. "We'll see when I get there, but I'm not there yet."
In case you missed it, check out Justin Bieber's interview on "Oprah's Next Chapter" in full below:
Be the first to receive breaking news alerts and more stories like this by subscribing to our mailing list.