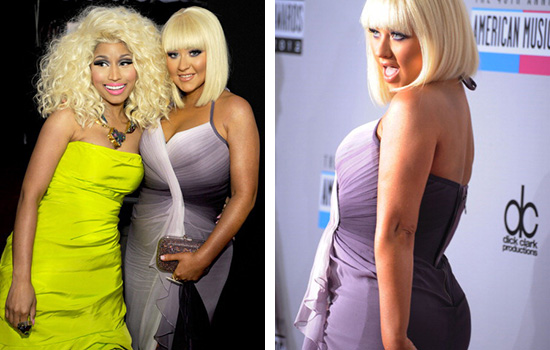 We don't know where it all went wrong for Ms. XXLtina Aguilera, but judging by the photos of Christina at the 2012 American Music Awards, it's safe to say that this girl could stand to ease up on the Twinkies, french fries, fruit snacks, greasy pupusas and anything else she's been stuffing her face with recently.
The candid shots of Christina from the award show make the young singer look like someone with 99 culinary problems.
Her plump physique and the unflattering dress made out of purple Tang whirlwinds were enough to ring the alarm, but how about the fact that Christina Aguilera has now grown so fat that she makes Nicki Minaj look trim and skinny?
If Christina doesn't want people to to assume she's about to go on maternity leave, she better hit the treadmill quick.
We know that she's repeatedly said that she embraces her new fat girl look, but this bloated wombat thing is really not the business. It must come to an end.
More pics of XXLtina at the 2012 AMAs are below:
Be the first to receive breaking news alerts and more stories like this by subscribing to our mailing list.