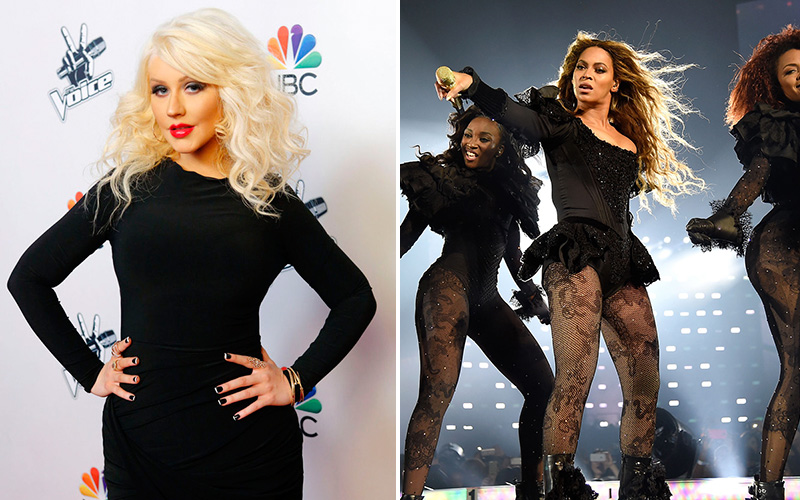 Poor Christina Aguilera. With a music career that's been left in tatters after her abysmal and underwhelming 2012 release Lotus, it's understandable that she'd be pressed to attach herself to more successful stars, no matter how far fetched it seems.
Beyoncé. Adele. Taylor Swift. These are the names of the women in pop music who are currently, as the kids like to say, "killing it."
So when Christina Aguilera, who has been subsisting for the past 4 years as an on-again, off-again host for NBC's The Voice as a judge, was asked who she'd like to duet with as she works on new music, of COURSE she threw out Beyoncé's name.
With Beyoncé currently riding the wave of yet another commercially successful and critically acclaimed album Lemonade, Christina Aguilera was eager to float out the possibility of the two of them getting in the studio and working together. You know, just in case her people are watching or something.
Here's the interview where Xtina sent out X's and O's to Bey.
Interviewer: If you could collaborate with one female musician, who would it be and why?

Christina: You know, I haven't done Beyoncé yet. I think me and Beyoncé would be a pretty fierce combination.
Let's be honest. Beyoncé really ain't checkin' for Xtina and if she were to even CONSIDER Xtina's proposal, it would be purely out of charity. In terms of gauging the likelihood of Bey and Xtina collaborating, I'd say it's more likely that you'll see Solange and Jay Z coming together to open a domestic violence shelter for battered men.
If Christina really wants to do a collaboration that would generate buzz, might I suggest reaching out to her longtime frenemy and rival Britney Spears? She'd easily sing circles around ol' Brit-Brit and it'd unite the pop forces in a way we haven't seen since The New Kids on the Block and Backstreet Boys went on tour together.
Be the first to receive breaking news alerts and more stories like this by subscribing to our mailing list.