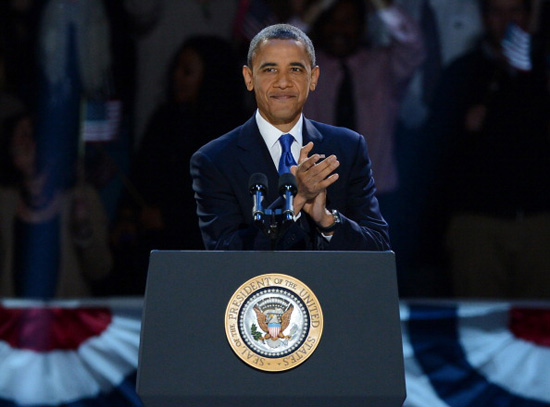 President Barack Obama delivered one hell of a victory speech early Wednesday morning (Nov 7) after winning the 2012 election and securing his second term in the Oval Office.
Just after 11 p.m. EST Tuesday night, most major news organizations had projected that President Obama had won enough electoral votes to win the election, and thousands of his supporters inside the McCormick Place convention center in Chicago erupted with applause as they waited for the President to take the stage and give his victory speech.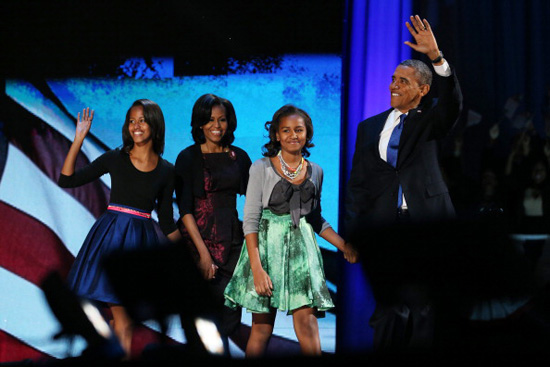 After a little over 2 hours, at around 1:40 a.m., the President and the First Family — including First Lady Michelle, and the First Daughters Sasha and Mali Obama — finally stepped out on stage, appearing before the cheering crowd to the beat of Stevie Wonder's "Signed, Sealed and Delivered."
And with a strong, passionate voice, President Barack Obama gave a heartfelt speech thanking his supporters and speaking of moving the country forward. He promised that he will return to the White House "more inspired about the work there is to do and the future that lies ahead."
"We are an American family, we rise and fall together as one nation, as one people," Obama said. "For the United States of America, the best is yet to come."
"Our economy is recovering. A decade of war is ending. Our long campaign is now over. And whether I earned your vote or not, I have listed to you, I learned from you," Obama said.
"Tonight you voted for action, not politics as usual. You elected us to focus on your jobs, not ours. And in the coming weeks and months, I am looking forward to reaching out and working with leaders of both parties," he said. "I have never been more hopeful about America."
The President thanked those who voted "whether you voted for very first time, or waited in line for a very long time — by the way we have to fix that," he joked.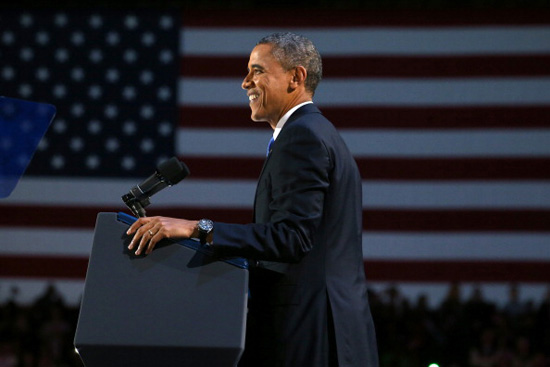 The President also applauded the futile efforts of his opponent Mitt Romney, saying, "We may have battled fiercely, but it's only because we love this country deeply. From George to Lenore to their son Mitt, the Romney family has chosen to give back to America through public service, and that is the legacy that we honor and applaud tonight."
President Obama added that in the weeks ahead, he plans on sitting down with Romney to "talk about where we can work together to move this country forward."
Obama proclaimed his campaign team to be the best in the history of politics, saying he "will always be grateful for everything that you've done and all the incredible work you've put in."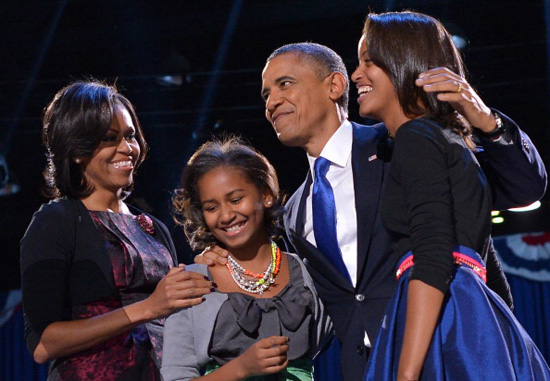 Obama also spoke highly of his family, saying he's never loved his wife more, and that over the past four years he has been proud "to watch the rest of America fall in love with [her], too, as our nation's first lady."
Addressing his two daughters Sasha and Malia, Obama said, "You're growing up to be two strong, smart, beautiful young women … I'm so proud of you."
President Obama concluded his speech with a unifying message. "We are not as divided as our politics suggest," he said. "We're not as cynical as the pundits believe. We are greater than the sum of our individual ambitions, and we remain more than a collection of red states and blue states.
"We are and forever will be the United States of America. And together, with your help and God's grace, we will continue our journey forward and remind the world just why it is that we live in the greatest nation on earth."
Be the first to receive breaking news alerts and more stories like this by subscribing to our mailing list.